Contact us 24/7: +1 877 678 9627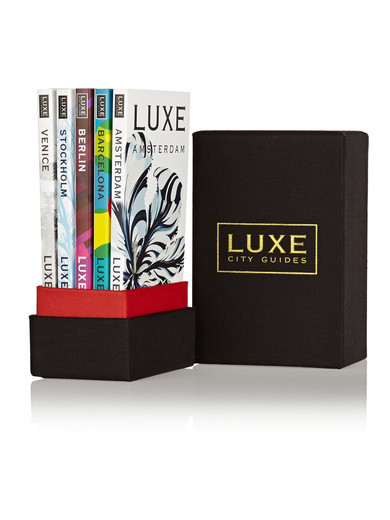 View product details
Speak to your personal shopping team about purchasing this item.
SIZE & FIT INFORMATION
- This item's measurements are:
Depth 6cm
Height 17cm
Width 9cm
EDITORS' NOTES
EXCLUSIVE AT NET-A-PORTER.COM. Travel to the chicest European cities in style with LUXE City Guides' pocket-sized booklets on hand. The set includes five fold-outs packed with the insider scoop on Amsterdam, Barcelona, Berlin, Stockholm and Venice. Find out everything from where the locals eat to how to navigate the city's public transportation system. Each pamphlet has a protective plastic sleeve and they come together in a travel-friendly black linen box.
- LUXE Amsterdam: second edition; published: 2014; publisher: LUXE limited; ISBN: 978-988-8132-22-5
- LUXE Barcelona: fourth edition; published: 2013; publisher: LUXE limited; ISBN: 978-988-8132-06-5
- LUXE Berlin: fourth edition; published: 2013; publisher: LUXE limited; ISBN: 978-988-8132-07-2
- LUXE Stockholm: second edition: published: 2014; publisher: LUXE limited; ISBN: 978-988-8132-23-2
- LUXE Venice: third edition; published: 2013; publisher: LUXE limited; ISBN: 978-988-8000-92-0
For alternative suggestions, contact our
Fashion Consultants
Help & Advice