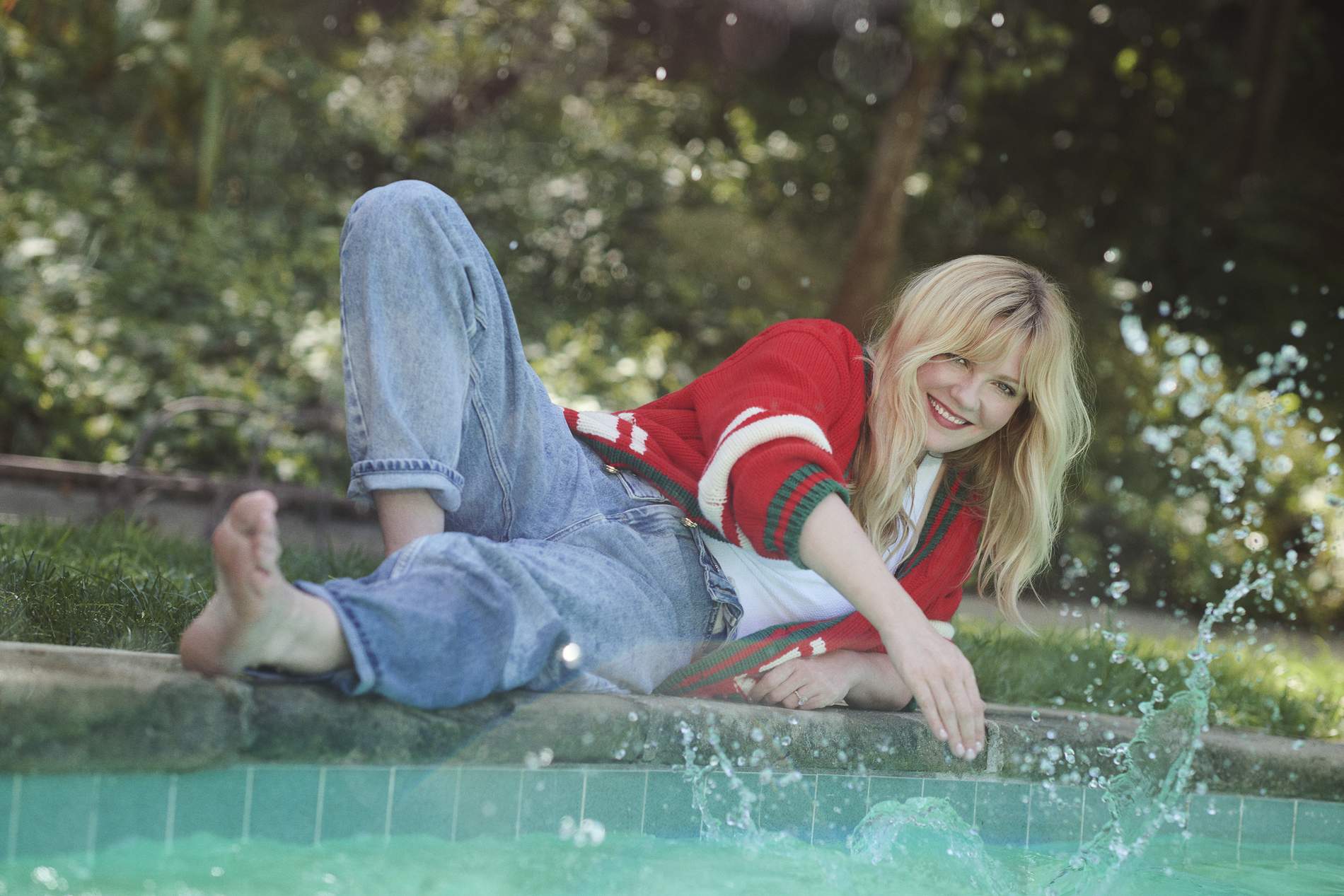 On the eve of her new TV series, KIRSTEN DUNST describes her toughest job to date: fronting and heading up a new show while looking after a newborn baby. The actor talks to CHRISTINE LENNON about meeting her soulmate, being her own woman and why she will never have her teeth 'fixed'
Photography

Annelise Phillips
Styling

Helen Broadfoot
For Kirsten Dunst, there's nothing more boring than vanity. "I don't really look in the mirror and see Kirsten when I'm working," says the 37-year-old actor about disappearing into her roles. "I have to set a look for a part and just forget about it. I don't care how I look."
Her latest role tested her resolve, however, because style was totally sacrificed to dark comedy. In Showtime's On Becoming a God in Central Florida, for which Dunst is also executive producer, she plays Krystal Stubbs, a struggling young mother circa 1990 whose life is ruined by a pyramid scheme, and whose wardrobe leans heavily on acid-wash jean shorts and some high-maintenance extras. "I had braces on my teeth," she says. "And that hair." She is talking about her character's hairsprayed cascade of blonde. "I'd get a spray tan every Sunday, then I'd get my acrylic nails fixed."
"It was the HARDEST job I've ever taken, right after five MONTHS off with a baby. I was so TIRED"
Dunst can laugh about it now, in between bites of a yogurt parfait on the PorterEdit shoot in Beverly Hills. And she does laugh a lot. Shuffling on set with damp hair, clean skin, and wearing a standard LA-mom outfit of black peasant top, jeans and flat sandals, it's clear she's unpretentious, unaffected and doesn't take herself too seriously. But on location in New Orleans, the stress of fronting her new show, being in charge and memorizing nearly 50 pages of script each night was no laughing matter, compounded by the fact that she was a new mom to her now one-year-old son Ennis, with fellow actor Jesse Plemons.
"I cried to my mother-in-law in the second week," says Dunst of Plemons' mother Lisa Beth, who joined her on set. "It was the hardest job I've ever taken, right after five months off with a baby. I was so tired. I would bring home a tuna sandwich from the craft services table. I would take a bath, and then eat my sandwich in bed while I read the pages and learned lines for the next day."
"I had read a lot of TV shows for WOMEN – and I just didn't want to be crying EVERY day. This woman is her OWN character"
That said, when George Clooney's production company, Smoke House Pictures, had first sent her the script, she knew the role was too good to refuse. "I had read a lot of TV shows for women – and I just didn't want to be crying every day. You know what I mean? I didn't want to be doing something to a man, only reacting to a male character, or having a man do something to me. This woman is her own character. She is doing her own thing."
She saw the show as an opportunity to use the producing skills she'd acquired over 30-plus years in the business, hiring trusted friends including her Melancholia co-star Alexander Skarsgard (whom she describes as a "hilarious, goofy Swede"). "I wanted to surround myself with people I knew. I did feel kind of vulnerable going back to work this hardcore so soon after the baby." She spotted gritty soul singer Beth Ditto in a Gus Van Sant movie, Don't Worry, He Won't Get Far on Foot, and knew she wanted to offer her a part on the show. "For the rest of the cast, I thought, 'Who's in Paul Thomas Anderson's movies? Let's get them!'" she laughs. "That's my trick! He's the gold standard."
Also, playing a mother who would do anything for her child was more instinctive. She felt maternal toward the kids on set. "Emotionally, I just knew what to do," she says.
Dunst has learned to trust her gut in her personal life, too. When she met Plemons, who rose to fame on the acclaimed high-school football drama Friday Night Lights, she says she "knew he was going to be a soulmate". The actors were playing a married couple in another dark TV comedy, Fargo (for which she was Emmy nominated). "He's my favorite actor – the best I've ever worked with," she says. "I just knew he would be in my life forever. I didn't know what capacity that would be at the time. When the show was over, I just missed him terribly. We didn't get together until a year later. We were both smart enough that we were wondering if the connection was just because we were working together. But it was real."
After nearly four years, the couple is still engaged. "But we're about as married as you can get," Dunst says. "We have a kid together. My mom was like, 'But when are you guys getting married?' And I said, 'Mom, I'm not going to get married when I'm pregnant. I want to have fun and have a drink. I mean, we're paying for this wedding. I'm paying for the bar! I want to enjoy it.' [My mom is] kind of old-school in that way. I thought I would have a hard time getting pregnant, but it was a surprise. If I hadn't met Jesse, I would have frozen my eggs. [But] it feels like I lucked out."
"I always went with what I WANTED to do. I wanted to be around GIRLS my age, and work for people I trusted. I went to NORMAL schools"
Both Plemons and Dunst were child actors. On a recent trip to Plemons' family home in Texas, Dunst spotted a photo of him twirling a rope, rodeo style, for a Coca-Cola commercial. He was two. Dunst was in ads for Pillsbury and Crayola as a toddler. Neither of them is in a hurry to see their son on screen. "If you have a kid who's very cute, I get why people do it. Do a Gap ad and you can make your college money. It's the first time I kind of understand it. Ennis is so adorable, with two big dimples. He is such a happy baby, and I see why I might want that memento of him at this age, but we will probably just encourage him to do school plays."
Dunst has no regrets about her own professional childhood, and is very close to her mother, Inez, who lives within walking distance of her house in the Valley, just over the hill from Los Angeles. Her mother and German-born father (Dunst has dual citizenship) split when she and her brother Christian were very young, and Inez traveled with her daughter for work. Dunst chose jobs that would expose her to other young actors, like Little Women with Winona Ryder, or Bring It On with Gabrielle Union. And she made a point of working with female directors, including Sofia Coppola on The Virgin Suicides and Marie Antoinette. "I always went with what I wanted to do," she says. "I wanted to be around girls my age, and work for people I trusted. I went to normal schools. My mom always came with me on location and brought the pasta maker and made me feel really comfortable."
"The benefit of growing up with [celebrity]," she continues, "is that I have a very healthy perspective of being an actress. I haven't worked out once since I had my baby. I'm not one of those people who says [affects a funny voice], 'Ohhh I have to get my abs back.' I feel like I've established myself as an actress. I have a healthy amount of vanity that hasn't tipped into something really destructive. I want to find parts where I don't have to be that person, and I have plenty of role models. Look at Patricia Arquette."
"I have a HEALTHY amount of VANITY that hasn't tipped into something really DESTRUCTIVE"
"I had good INFLUENCES growing up. I worked with Sofia Coppola when I was a teenager, and she said, 'Don't fix your teeth. PEOPLE will tell you to fix them, but you're BEAUTIFUL'"
After the birth of her son, Dunst decided to embrace her post-baby body and offload an entire section of her closet. She refuses to be taunted by sample-size evening gowns. "I want to look nice for how I look now. There was a time when I was like, 'S***! I don't fit into anything anymore.' I just bought clothes in the size I am now," she says. "I don't care. I sold all this stuff on The RealReal. And there was some really good stuff in there!"
She credits her early relationship with Sofia Coppola for fostering her positive self-image. "I had good influences growing up. I worked with Sofia when I was a teenager, and she said, 'Don't fix your teeth. People will tell you to fix them, but you're beautiful. You don't need to.' Later, when I was working on Spider-Man, people were recommending a dentist. I would think, 'Well, Sofia likes my teeth. She's so natural, so chic and feminine, and she's directing movies,'" she recalls. "If she thinks I'm pretty, I'm pretty."
On Becoming a God in Central Florida premieres on August 25 on Showtime
The people featured in this story are not associated with NET-A-PORTER and do not endorse it or the products shown.