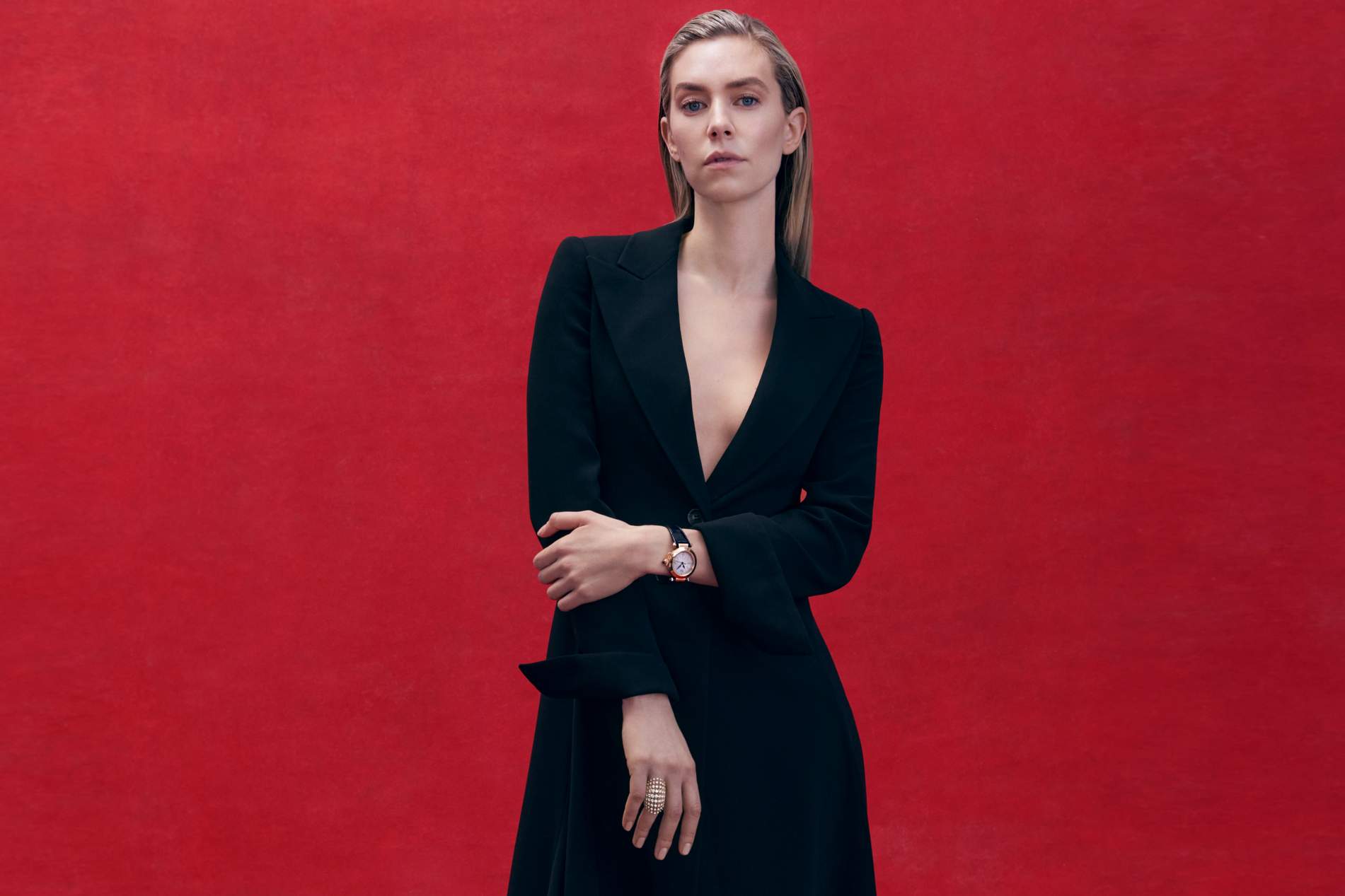 VANESSA KIRBY's beautifully wrought performance in Pieces of a Woman has earned her Best Actress nominations across the board this awards season – but filming it has changed her on a deeply personal level, too. She talks to KATIE BERRINGTON about gratitude, grief and how preparing for the role on a maternity ward was the best afternoon of her life
Photography

Toby Coulson
Styling

Marquessa Lucas-Box
For Vanessa Kirby, celebrating her first ever Oscar nomination during a national lockdown meant a party for two at home, with balloons and champagne from her sister, and an evening spent FaceTiming her friends. This might have been a more low-key affair than the festivities of other years – a treadmill of press breakfasts, lunches and events in LA – but Kirby wouldn't have had it any other way. "I heard the news and I was so shaky, and then I just got to hold my sister's hand all night and talk to my best friends," she smiles, still incredulous, when I congratulate her the next day. "I got to experience it from such a calm place and I'm just feeling deeply grateful."
There is a lot that Kirby is expressing gratitude for when we connect over Zoom – she from her bedroom in the south London flat she shares with friends and her younger sister Juliet, an assistant director. She is thankful they could spend the lockdown months together: "[Juliet] was that year for me," says Kirby. "Every hour of it, really, was with her." The London-born actor is also feeling grateful to have two movies released amid such an extraordinary, testing time: American frontier drama The World to Come, in which she and Katherine Waterston play two married women who begin an affair in the midst of desolate circumstances, and Pieces of a Woman, a heart-breaking portrait of trauma in the aftermath of a couple losing their newborn baby. Both films have received critical acclaim, and, for the latter, Kirby's quietly gut-wrenching performance of the grief-stricken Martha has swept up Best Actress nods from the Golden Globes, BAFTAs, SAG Awards, Critics' Choice and Academy Awards.
Kirby, 32, is no newcomer to the awards circuit. Her ability to segue with utter authenticity between genres and mediums has captivated stage and screen audiences alike in the 12 years since she started out. But this awards season has felt rather different. "You do these Zooms of the ceremonies – they're usually at 4am here because it's LA time – and I drag my sister out and we sit there and giggle, and they come to you and you clap. Then the computer closes, and we eat a bar of chocolate at 5am, watching some random TV, laughing, in our pajamas."
Kirby finished filming The World to Come and Pieces of a Woman back to back, and flew home just weeks before the pandemic hit and every corner of the industry shut down. "Honestly, I didn't know if the films would ever come out. Cinemas were closed and neither of the [films] were with Netflix or any distributor [at the time]. It was five months of absolutely nothing. I wasn't attached to any other jobs, so it wasn't like I was preparing for anything. I was in equal parts a 13-year-old and a retiree," she shares of her own experience, quick to note how very lucky she has felt, knowing the challenges and tragedies faced by so many others.
"Films about a woman giving BIRTH, for literally a QUARTER of the screen time, just wouldn't get FINANCED a couple of years ago"
Then, after months of lockdown nothingness, Venice Film Festival called. While almost all other industry events had been cancelled, it was "surreal" to see both movies premiere there, in a theater with a live audience, last September. TWTC received the Queer Lion award for the Best Movie with LGBT Themes & Queer Culture, while Kirby won the Volpi Cup for Best Actress for Pieces. This felt all the more incredible, she says, given the subject.
Beginning with a near-30-minute uncut take of the home birth that ends in tragedy, the film, directed by Kornél Mundruczó, is unrelenting as it delves into the agonising psyche of loss and the subsequent disintegration of Martha's relationships. "Films about a woman giving birth, for literally a quarter of the screen time, just wouldn't get financed a couple of years ago," says Kirby. The birth scene is harrowing to watch and impossible to look away from. It took four takes over two days to shoot, with only one short rehearsal beforehand, and the little dialogue was mostly improvised.
To prepare, Kirby shadowed a friend working on a maternity ward in a London hospital, even getting to be present in a room as a woman gave birth – an experience she was awe-struck by. "It was the best afternoon of my life, I would say," smiles Kirby, still shaking her head in wonder. "I hope I get to do it one day."
"I notice now, I'm so ACUTELY sensitive to other PEOPLE'S pain, much more than I EVER have been"
It is evident how much it meant to Kirby to do justice to the collective experience of the women she spent time with in researching the role. This included working with Sands, the stillbirth and neonatal-death charity, and being introduced to a woman, Kelly, who she has become close friends with, who suffered a similar experience to that of Martha's. Embodying this raw, anguishing element of human existence, one so often ignored in society, took a long time to leave the actor. Does she think it has changed her in any way? "I notice now, I'm so acutely sensitive to other people's pain, much more than I ever have been," Kirby considers. "I can read it more; I can see it more and, if I see it, I know how to stand beside it and hold space for it." She is learning, too, to afford herself the same emotional room, to give "permission for any [feeling] to come up that wants to or needs to, and I can just hold space for it as it does, rather than being like, 'OK [she shakes herself off], now I don't have those feelings anymore.'"
"A lot of movies have these very NEATLY drawn female archetypes who are a FILM version of women, and that's not what I IDENTIFY with"
Kirby has done most of the press campaign for Pieces by herself, after allegations were made against her co-star Shia LaBeouf prior to its release. FKA Twigs, a former partner of LaBeouf, filed a lawsuit in December accusing him of "relentless abuse", including assault and sexual battery, during their relationship. At the time, LaBeouf told The New York Times: "I have a history of hurting the people closest to me… I'm ashamed of that history and am sorry to those I hurt," though he denied the allegations made by FKA Twigs in a response to the lawsuit in February. In December, Netflix reportedly removed his name from the For Your Consideration awards campaign. Responding to a question from The Times at the beginning of the year, Kirby said: "I stand with all survivors of abuse and respect the courage of anyone who speaks their truth. Regarding the recent news, I can't comment on an ongoing legal case."
Honoring and raising up the experiences of women through her work is clearly of great importance to Kirby. She cites the fact that in TWTC, she and Waterston play characters at the center of the narrative, from a time when there is little trace of the lives led by women. "They lived in such difficult circumstances, even more so if you were a woman, and if you loved someone of the same sex… It could be fatal in those times, to take any risks outside of what you were expected to do."
She specifically seeks out roles that pose a challenge and that she can learn from – "One of my first questions will always be, 'Is this something that scares me?'"– and feels drawn to honest depictions of the messiness of the human experience. "A lot of movies have these very neatly drawn female archetypes who are a film version of women, and that's not what I identify with," she says. This commitment goes beyond the roles she gravitates towards. Kirby is in the process of setting up her own production company, to be part of paving the way for female-centered storytelling. "From my experience of being a woman in the world, I know that you have to be an agent of that change. I know how wonderful it felt for me to have that space on a set, and now to be creating a company where I can continue to make those choices."
A realization about problematic female representation on screen came to Kirby a few months into playing Princess Margaret in The Crown, when she and Claire Foy (who was playing Elizabeth II) were waiting to go on set. "Claire asked me, 'Do you feel really empowered on this?' and I was like, 'Yeah, I actually feel like I have space to do the work I've always wanted to do.' She said the same, and we realized that [it was because] we were the protagonists of our own story."
Kirby continues: "It was that [moment] which illuminated the number of times when you were in [projects] where you were saying things that only helped the psychological journey and the narrative of the male characters."
"From my experience of being a WOMAN in the world, I KNOW that you have to be an AGENT of that change"
Kirby's career began on and has returned frequently to the stage (director David Thacker gave her three starring roles at the Octagon Theatre in Bolton in 2009, which kickstarted her résumé), and so the transition to high-profile screen roles has taken some getting used to. "I just so happen to be in a job that is in a public medium, and I'm grateful for that, because it's lovely to tell a story that you really care about, and to have other people share it with you. But the public nature of it is strange and sort of random, because I don't feel that what I do is any more important than anyone else. It's not because I'm more interesting than the next person doing something that they love and care about."
Hollywood might disagree, as Kirby has become one of the most in-demand names among her peers. Next up, we will see her reprise the role of the White Widow in Mission: Impossible 7, slated for release later this year. These huge blockbusters may be a far cry from her beginnings treading the board, but her love of the craft hasn't changed.
"I remember getting my first paycheck – it was like a lightning bolt for me, walking from the theater in Bolton back to my flat," she recalls. "It's just the biggest blessing to do something you truly love with your day. I wake up feeling that, and I go to sleep feeling that, so, in some ways, I still feel like that girl walking home from the theater."
First Time with Vanessa Kirby
From her debut red-carpet outing to her first ever award nomination, Vanessa Kirby shares some of her most significant milestones…