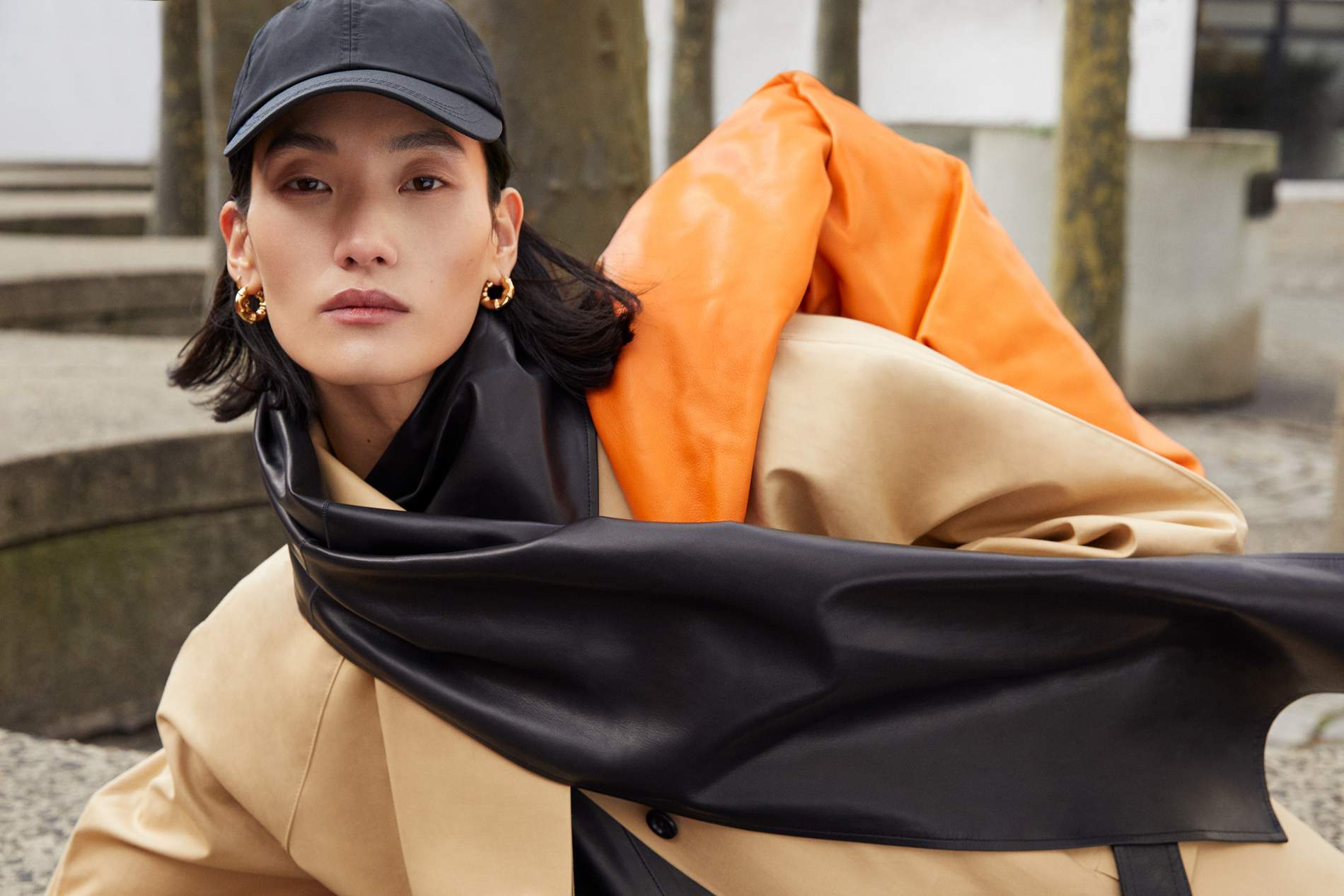 It's almost impossible to go wrong with a classic, whether that's an impeccably cut blazer or a timeless trench. But what happens when you subvert the minimalist codes that often surround these staples with clever, luxurious layering and a dose of fresh sartorial alchemy? That's where the modern-day magic begins, as GILLIAN BRETT explains. Modeled by LINA ZHANG
Photography

Yelena Yemchuk
Styling

Natasha Royt
You don't have to be a minimalist to appreciate well-cut, versatile staples. And you can believe in the time-saving magic of a capsule wardrobe while lusting after a saccharine-pink tulle gown by Molly Goddard. Yes – while modern, minimal and Scandinavian may have become precursors to good design, that doesn't mean avant-garde maximalism is passé – it's all in the styling.
Successful layering is sartorial shorthand for having 'a good eye', regardless of your predilections. So, complementing clean-cut staples with a few considered touches, or a completely novel combination, can take an outfit from conventional to exceptional. 'Reverse layering' (i.e. wearing pieces that would usually be considered as outer layers underneath another item) might take you out of your comfort zone, but when it's done right, it looks incredibly chic and uncontrived. The key is to temper your proportions: the turtleneck-beneath-a-shirt look works best when the knit is gossamer-fine and fitted, and the shirt is opaque and slightly oversized (look to Victoria Beckham's SS20 runway for a masterclass in effortlessly layering a roll-neck beneath a safari shirt, blazer and trench coat).
Beyond the style kudos gleaned from original and elegant juxtapositions, there are more practical reasons to familiarize yourself with the art of layering. Most pertinent is the role it plays in making your closet staples work a little harder – which ultimately means a more sustainable approach to getting dressed, too. By reinvigorating tired wardrobe go-tos and removing the seasonal associations of certain garments, timeless and well-made pieces can be worn all year round. Meaning that midi skirt you lived in last spring will still work in tricky trans-seasonal weather when paired with stylish hosiery (as spotted on the Balenciaga and Gucci SS20 runways) and stompy boots. Artful layering can also help to dress up and disguise stealth athleisure on days when you're shuttling from a morning Pilates class to an afternoon meeting or squeezing in some pre-dinner yoga.
Here, stylist Natasha Royt puts a directional spin on investment-worthy classics, while NET-A-PORTER's fashion director Kay Barron shares her tips for re-wearing them in myriad ways for many, many seasons to come.
"While the TRENCH has forever been a wardrobe CLASSIC, now it offers a little MORE"
This image: dress, and earrings, both Bottega Veneta; lace-up Pilates socks, stylist's own; ear cuff, Saskia Diez; necklace, Loren Stewart. Opening image: trench coat, Kassl Editions; draped leather top (includes scarf), Proenza Schouler; cap, The Upside; bag, and earrings, both Bottega Veneta; earring (model's right ear, second hole), Isabel Marant (sold as asymmetric pair)
German label Kassl Editions' mission is to create universally flattering coats that last "a lifetime or longer", courtesy of hard-wearing fabrics and water-repellent finishes. Meaning its classic trench coat (as seen in the opening image of this shoot) is a true forever piece. Stylist Natasha Royt layers it over Proenza Schouler's leather top with a draped scarf-like panel, which lends a tough but sophisticated edge. Wearing a leather biker jacket beneath a trench is a time-honored technique, but Royt subverts this look by layering a leather vest over Deveaux's lightweight cotton mac (above).
NET-A-PORTER fashion director Kay Barron's tip: "We expect all our clothes to work harder these days. After all, they are going to be with us for a long, long time. While the trench has forever been a wardrobe classic, now it offers a little more," says Barron. "Whether paneled in leather, punctuated with unexpected details or constructed to create a dramatic silhouette, the trench coat is as practical as ever, but with a hit of the phenomenal."
"Think how the BLAZER became the uniform of the '90s SUPERS, who wore it with DENIM and white sneakers"
It's a truism that a well-cut blazer will pull every outfit together. Royt demonstrates this theory on the more casual end of our closets by styling this oversized Roksanda number with relaxed trackpants. Cinching a blazer with a waist belt is a classic styling trick, but experimenting with a long-sleeved knit tied casually around the waist takes the look in a more laid-back direction.
Fashion director's tip: "While the blazer gives a professional finish to every look, you should treat it as you would a denim jacket: it's as much a weekend mainstay as it is a work stalwart. Think how it became the uniform of the '90s Supers, who wore it with denim and white trainers, but now add a hoodie underneath for a practical off-duty update. Keep it oversized and relaxed, and you'll find that one with a longer line is even more flattering."
With his sinuous, two-tone interpretation, Daniel Lee has proven there's nothing pedestrian about the knit dress. Royt styles it bare-legged with balletic sandals for the perfect office-to-out look (image two). Layer it over tailored pants to transform it for cooler climes.
Fashion director's tip: "Believe it or not, the knitted dress is set to become your closet staple. Oversized and as comforting as being wrapped in a blanket, a chunky knit that skims your ankles will be all you want to be swathed in during a freeze. For warmer weather, a fitted ribbed alternative will become your dawn-till-dusk go-to."
The multifunctional midi skirt
With its accordion pleats and handkerchief hem, Loewe's leather-trimmed midi makes a subtle statement. Royt ramps this up with a sculptural leather waist belt and contrasting white tights, reminding us that with playful touches and a little texture, monochrome can be maximalist.
Fashion director's tip: "The midi skirt was a '70s essential, and it remains as relevant. The chic and feminine fit-and-flare silhouette is ever-flattering and, when paired with a killer heel, surprisingly sexy, too. However, for an edgier attitude, ground it with a stomper of a boot."
The forever faux-fur coat
Royt emphasizes the versatility of a faux-fur coat by dressing it up with tailoring and down with jeans and a snood. When choosing yours, opt for enveloping, oversized silhouettes that allow room to experiment beneath.
Fashion director's tip: "I don't believe in saving clothes for 'good'. If you love it, wear it – whenever and wherever you like. Which perfectly applies to the faux-fur coat. The ultimate cover-up, it lends glamour to everything. Throw it over your pilates kit to give a luxe edge to your morning routine, wrap it over denim, or go all out and wear it with your very favorite evening look for day. After all, this is January, and we all deserve to feel a bit fabulous."
"I don't believe in SAVING clothes for 'good'. If you LOVE it, wear it – whenever and WHEREVER you like"
The high-low leather coat
With its capacious bell sleeves and standing collar, The Row's chocolate leather Emely coat has an ultra-luxe, vintage feel. Royt dials down its ladylike silhouette by styling it with a bra top over a T-shirt, giving it an off-duty appeal, too.
Fashion director's tip: "Never underestimate the power of a leather coat. It instantly creates an air of authority, but don't think of it as intimidating. A white T-shirt and jeans are elevated, an evening dress becomes cooler and, as a true investment piece, it only gets better with age."