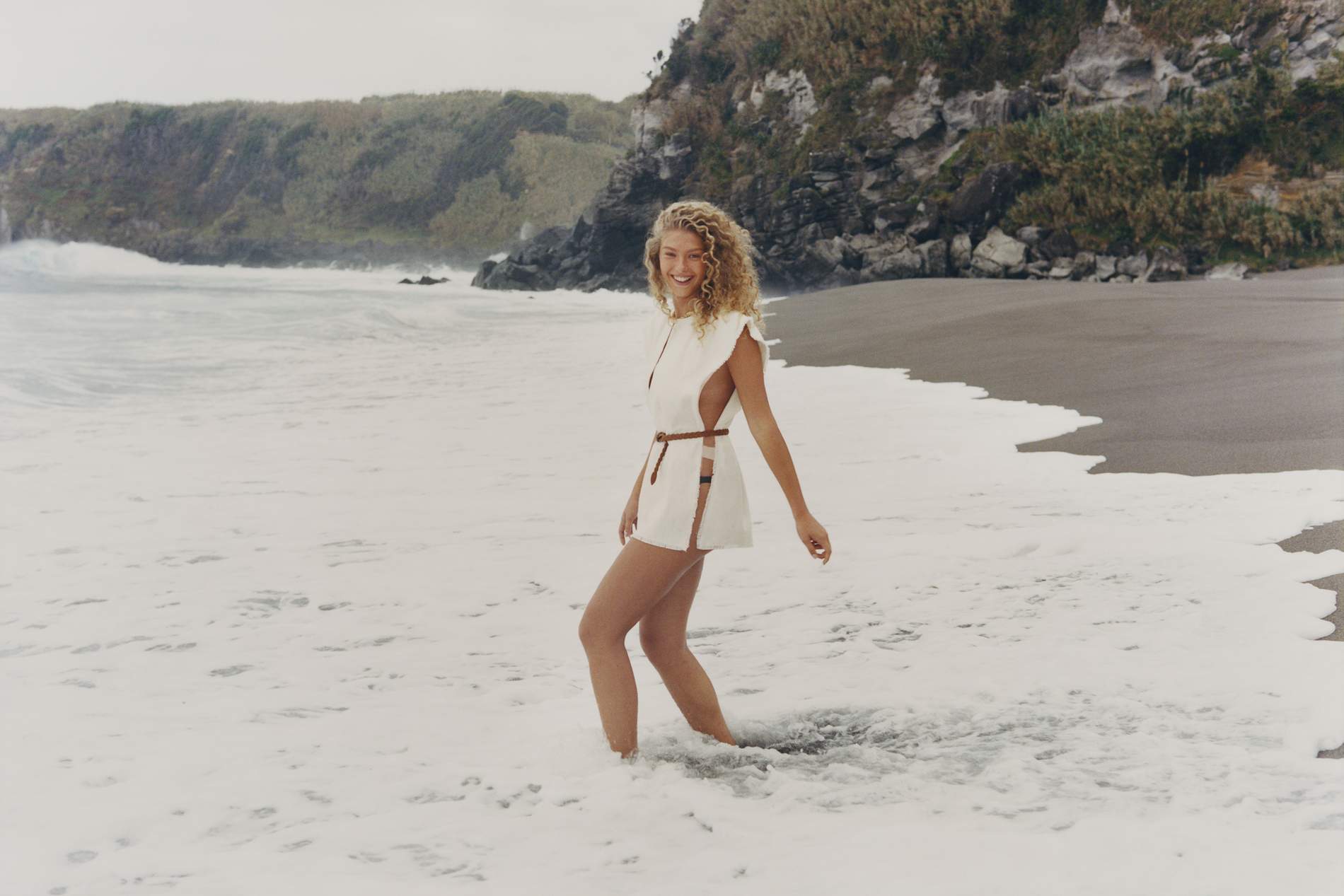 Dreaming of your next getaway? Start planning now with our ultimate beauty guide, starring model DORIT REVELIS in the season's beach essentials. Simple shapes in sunny shades reflect a less-is-more attitude, chiming perfectly with a pared-back approach to the best luxe beauty essentials for skin, body and hair. Now did someone say vacation? By NEWBY HANDS and DANIELLE FOX
Photography

David Luraschi
Styling

Helen Broadfoot
While choosing the right level of protection obviously matters (factor 30 is widely considered the go-to by dermatologists; the difference in protection between SPF30 and SPF50 is only around 1 percent), how you wear it is equally important. Always apply it top to toe, like a body lotion, before you leave for the beach or pool – or even before you put your bikini on. This way, skin is totally protected, preventing those missed 'seams' of skin by your swimwear. It also ensures that sun care has time to absorb and give its full protection. Reapply every two hours and be generous. Also make sure to let skin cool down every half hour or so if spending time in the sun – heat can damage the skin in addition to the harmful effects of the rays. "Sun care can be very oily, and can make oily skin more prone to breakouts," says Dr Jean-Louis Sebagh. "If that happens to you, choose a mineral sunscreen."
What to keep in the minibar
After a long-haul flight, chilling a favorite sheet mask not only helps to calm skin but also aids in firming it up and de-puffing features, re-energizing weary complexions. Add any aftersuns and repairing anti-oxidant skin serums to the chiller, too – using both while cool takes unwanted and damaging heat out of your skin. Plus it feels wonderfully soothing on any sunburn.
How to deal with vacation hair
There is a reason that salt sprays, which recreate easy, undone beach hair, are so popular year round: vacation hair always looks so effortlessly great. But as with our skin, chlorine, saltwater and sun can all leave locks dry and damaged. Protection is key, and there are two approaches you can take. Firstly, if the look works for you, slick your hair back each morning with either a conditioner, pre-shampoo or treatment mask, tie it back and leave it until shampooing at the end of the day (Philip Kingsley's Elasticizer Pre-Shampoo Treatment is excellent for this and works on all hair, from textured to fine). By the end of your trip your hair will be in the best condition possible. Alternatively, if you prefer to keep hair natural, use a UV-protection spray that mists hair without leaving it wet, flat or greasy.
"Vacation HAIR always LOOKS so effortlessly GREAT"
How to look good on the beach
This requires just a few key products, all of which are designed to subtly enhance the skin and stay put in the sun. Once Eyeko Sport Waterproof Mascara is on your lashes, it takes a minor intervention to get it off (although warm water and a flannel will do), which is why it's the perfect choice for the beach – and it's also a great option for those who find that, in the heat, their mascara ends up on their skin more than their lashes. Lip balm should be non-negotiable by the sea; better still, get one with added SPF, such as By Terry SPF15 Baume De Rose. Hair often takes the brunt of the effects of the beach, so make sure you have a protecting spray like Sisley Protective Hair Fluid to hand, which guards against UVA and UVB rays, saltwater and chlorine.
What to put in your beach-to-bar beauty kit
Long lunches and post-beach drinks call for some quick and easy ways to freshen up, so pack your beauty bag accordingly. Face Halo's reusable microfiber face pads just need wetting to cleverly and quickly cleanse the face of SPF, leaving skin fresh. Skin can feel tight after time at the beach, so add some much-needed hydration with Dr Sebagh's travel-sized Serum Repair, a highly concentrated hyaluronic acid that works wonders on dehydrated skin. Then, to enhance your beach glow further, use Sisley Tinted Sun Care Stick SPF50+ or Laura Mercier Tinted Moisturizer Crème Compact SPF20 to give skin a beautiful finish that also protects.
Hair often looks less than desirable after a morning by the sea, so a quick failsafe for when the beach club beckons is Slip's Twist silk headband. It's kind to beach hair, as silk neither pulls nor dehydrates the hair like cotton can. Or, for an instant way to dress up your hair for lunch, refresh curls or waves with Wander Beauty Extra Mileage Hair Refresher. Finally, re-energize with a favorite fragrance – but try switching a spritz of eau de parfum for a fragranced body oil like StrangeLove NYC Lostinflowers. Fragranced oils bloom beautifully on skin that's been warmed by the sun.
The après-beach essentials
Estheticians report that clients' post-vacation skin is rarely in great condition. Potential sun damage aside, daily use of SPF can leave skin clogged and dull, as it is not easy to fully remove each night. Using a gentle scrub or mild peel twice a week will help, and even if you're not wearing makeup, do take time to deep-clean your skin (cleansing oils or balms are best to remove oily sunscreens). For the body, a salt or sugar-and-oil scrub is the perfect polishing-and-moisturizing vacation skin treatment, as keeping skin lightly exfoliated helps a tan look fresher – it's the dead skin cells that give a fading tan that dull, muddy tone. Legology's Exfo-Lite Leg Exfoliator scrub smells gorgeous and comes in sachets, making it easy to pack.
Keep skin extra hydrated with hyaluronic acid-based serums and always 'seal in' the moisture with a face cream; if skin feels very dry, use a face mask as your face cream for a few evenings. For your body, if it's not too humid, then using an oil can help keep sun-dry skin looking healthy. Remember that a good oil should sink in and not leave skin hot and greasy. Alternatively, mix some oil into your body lotion, as it can make the world of difference on skin left parched by days outdoors.
"A SALT or sugar-and-oil scrub is the PERFECT polishing-and-moisturizing VACATION skin treatment"
How to give skin a sun-kissed finish
Illuminators have such a powerful and pretty effect on the skin. A little bit of shimmer, even on just one area of the body, such as the décolleté or exposed shoulders, makes all the difference. However, they are also some of the most misused products – using too much or choosing the wrong texture can make the effect too obvious. Thankfully, the new breed of illuminators is far more subtle but still gives that covetable lit-from-within finish. A modern classic is French Girl Organics Lumière Bronzée Shimmer Oil, which moisturizes with a golden sheen for soft skin and glossy limbs. Alternatively, try Huda Beauty N.Y.M.P.H. in Aurora, a deep copper that beautifully enhances darker skin tones. For those who prefer a different texture, Charlotte Tilbury's Supermodel Body highlighter is this beauty team's favorite for making bare skin look its very best.