With
Rosie Huntington-Whiteley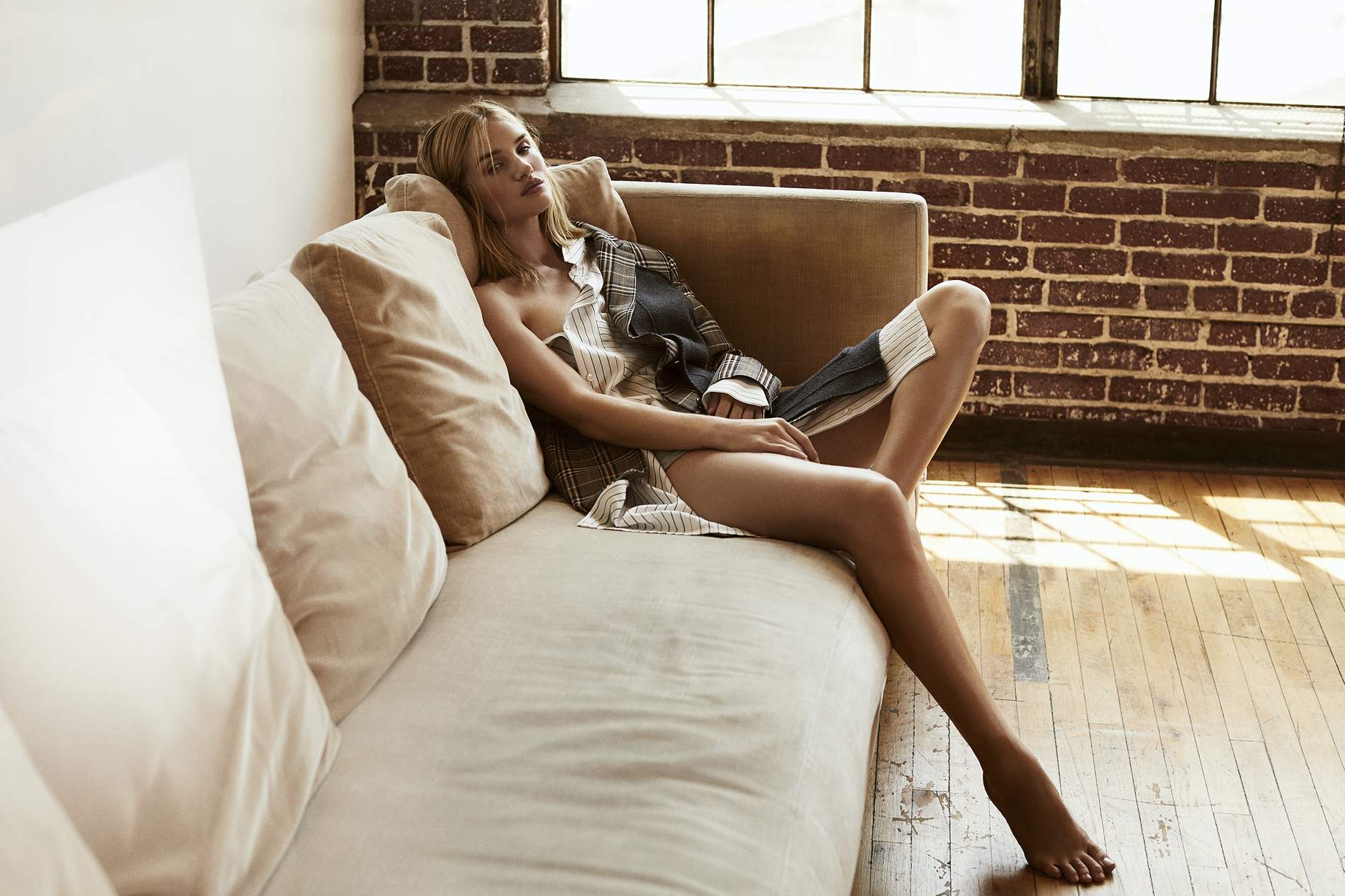 She's already made the journey from 'catalogue queen' to high-fashion supermodel and even designer, but ROSIE HUNTINGTON-WHITELEY isn't stopping there. After setting up her own beauty business while on maternity leave, she tells JENNIFER DICKINSON why she's taking control
Photography

Zoey Grossman
Styling

Alison Edmond
Rosie Huntington-Whiteley enters LA's Soho House outpost at just after 10am on a Thursday morning. And even for Los Angeles, a town where beautiful people are as abundant as the avocados, she is something else. She wears glamour like a second skin, though the midi-length, sinew-skimming dress she's wearing comes a close third. Her sandals are at least three inches in height, there's an artful pile of honey-hued hair on her head, and heavy gold earrings hang from her lobes. It would be intimidating, but there's the fact that she's made this effort, dressed like this, for today's interview, and whether that's because she likes to make an impression, because she's nervous or because she wears her clothes like armor, it means she's completely relatable inside that heavenly exterior.
She proves this hypothesis almost immediately, bemoaning the post-pregnancy acne that's her current frustration. "I've never had perfect skin, but throughout the pregnancy it couldn't have been better," she says wistfully. "They say boys bring out your beauty and girls steal it!" Son Jack, her first child with long-time beau Jason Statham, was born in June last year. "Six months after [the birth] the acne started. It's sort of a depressing thing, so mortifying. I'm following [skin specialist] Dr Lancer's advice, so it's a work in progress."
It's a few days since the supermodel-turned-entrepreneur posed for the images you see here. She enjoyed the shoot, she says, but being on set doesn't hold the allure that it once did. "Being photographed [has] become the least fulfilling part of what I do because I've done it for so many years," she says, perched on a blue sofa, back perfectly straight. If [shoots aren't] a collaborative process then I'm not really interested, because I don't want to feel like I did for the first ten years of my career, which is that I was just having stuff done to me."
The British native is 31, but she was signed up to a modeling agency at the age of 16, so she speaks from experience. Born in Devon, growing up she lived on a farm with her brother, sister and parents, with pictures of Gisele Bündchen, Natalia Vodianova, Gemma Ward, Lily Cole and Kate Moss smizing down at her from the bedroom walls. "I just wanted to be in London. Growing up in the countryside, I was so sheltered – I knew I was not going to get exposed to what I was really passionate about down there. I wanted to see the world and to me, London was the epicenter of the world. I wrote off to all these places in fashion and I got work experience at a modeling agency. I was so excited that I was going to get to go to fashion shows and see magazine shoots. Of course, I go to this tiny agency office in Soho and spent the whole week emptying ashtrays, pouring wine and running out to send faxes."
Though she was signed speedily, the work that came Huntington-Whiteley's way was not the immediate entry into the world that she'd dreamt of. "I spent years and years as a catalogue queen," she says, articulating the challenge that can befall many a high-school beauty. "I did so much catalogue work and did all the high street brands, brands from all over the world that were much more mainstream. For years I couldn't get a job in high fashion or luxury."
"If it's not a COLLABORATIVE process then I'm not interested… I don't want to FEEL like I did for the first ten years of my career, that I was just having stuff DONE to me"
She made her breakthrough modeling for Victoria's Secret in 2006, but it was Burberry that really changed her fortunes, when the label's creative director Christopher Bailey cast her in the brand's FW08 campaign, going on to make her the face of a new perfume, Burberry Body. Over the next three years, she posed for the Pirelli calendar, landed solo covers of British Vogue, Harper's Bazaar and ELLE, and became heralded as the model responsible for bringing back a more womanly aesthetic. "There came this turning point in the industry, not just for me but for a lot of the commercial models, around that time when social media had started to become a day-to-day experience that we all deal with. I think that editors, brands and magazines started to realize, hang on a minute, these sexy, traditionally more wholesome or commercial-looking girls were actually the girls that could sell and speak to real women."
Working in the industry at that time, it seemed as though Huntington-Whiteley had come from nowhere to be the model that everyone wanted to shoot. The women running those magazines, the editors, creative directors and fashion directors, welcomed her with open arms, as though all they had been waiting for was fashion's seal of approval. "With Victoria's Secret, you were celebrated for being a woman and […] for being feminine and having a personality – laughing and being approachable. I would go to castings in my teens and the response that I got from my agent was: 'They think you're too much of a personality, you're too happy and wholesome,' and I'd just be like, 'What? Well, f**k them, I don't want to work with them anyway.' So it was great to finally find my home with companies that celebrated those things – Victoria's Secret, Marks & Spencer, Burberry."
It was Marks & Spencer, an icon of the British high street, that first tapped Huntington-Whiteley for her brains as well as her beauty, asking her to work with them on designing a line of lingerie. Its runaway success – the range was credited with helping to get the historic store back in the black, selling nearly 400,000 items within one three-month period according to the retailer – led to a beauty line following suit in 2016.
"I'd go to CASTINGS and the response I got was: 'They think you're too much of a PERSONALITY…' and I'd just be like, 'F**k them'"
Brand Rosie has become big business; last year, despite taking a maternity break with Jack, the supermodel placed sixth on Forbes' annual ranking of the world's highest-earning models, only trailing Gigi Hadid, Adriana Lima, Chrissy Teigen, Gisele and Kendall Jenner. And earlier this year, she launched Rose Inc, a beauty forum best described as the powder room come to digital life; the kind of place you can be inspired, ask questions, feel as though you are among equally makeup- and skincare-obsessed friends. There's an affiliate-type deal where if you like the sound of a product you can click to buy outside the site, but it's clear Huntington-Whiteley has big plans for her online baby. "Look, I'm not going to lay my five-year plan down on the table to you, but I'm sure you're smart enough to realize that I have ambition and goals for the site and I have a very clear vision of what I want to create from it," she says. "It's really daunting and really scary, but I knew my work couldn't go back to the way it was before [starting a family], just purely because I was on a plane every two weeks and as much as I love to work, your priorities shift massively."
"I've never felt COMFORTABLE sitting back and waiting for other people to make DECISIONS for me. I've always wanted to be in CONTROL of where my life is going"
If all she wanted was something to fit in around motherhood, there would surely have been easier routes than setting up a company from the kitchen table while breastfeeding a newborn baby. She's not trying to shy away from the fact that she's driven, though. "When you're a model or an actress, a lot of it is waiting for the phone to ring. You're sort of sitting around and waiting for other people to make the decision to take a chance on you, and I just never felt comfortable sitting back and waiting for other people to make decisions for me." She smiles. "I've always wanted to be in control of where my life is going."
It's that guts and feistiness, she says, that protected her from the dangerous side of the modeling industry, something she only realized the extent of last year when multiple revelations of abuse were made public. It's made her think differently about her experiences. "I don't think young models are protected enough. There was always this encouragement that you should 'be free', 'be wild', 'the more you relax the more work is going to come your way'… I look back and I am very lucky that I never had an experience that has left me deeply scarred. There were certain things that were just not OK, comments that were made or expectations that were put on you, and professional lines were crossed." The situations she describes sound all-too familiar. "The sort of conversations that often took place were, 'Well, he might want to take some photographs of you at his house and it might be a bit sexy so, you know, if you're happy to go along…' Almost like the looser you were and the more rock'n'roll you were about things, then that was the way to be. Looking back now, there were a lot of instances where you were unprotected and that really starts with the agents, as people who take a huge commission from young women. I have to scratch my head at times and ask what they're doing." There's culpability on all sides in this situation, but she's right, of course, and we must all do more to ensure the people we work with are protected. Feisty or not, no one should be unsafe at work.
There's just time to ask some final quick-fire questions. What would you be most surprised to learn? Maybe that her guilty pleasure is British reality TV show Love Island: "I downloaded Hulu specifically for it. I was obsessed with [on-screen couple] Jack and Dani." Or that she and Statham split the household chores pretty evenly, with the actor usually taking care of son Jack in the (very) early mornings, while she looks after the bedtime routine. The supermodel herself thinks that, most of the time, when people meet her they are pleasantly surprised. "Perhaps people mistake my protectiveness [of my private life] or nervousness to reach out to an audience as aloofness or standoffishness, and one of the things that I always hear from people who meet me is they're surprised that I'm warmer than they might have thought." She laughs. "People have low expectations, which I'm totally fine with."
From building her own company to who wears the pants in the Huntington-Whiteley/Statham household, press play to see our cover star talk about who's boss…
The people featured in this story are not associated with NET-A-PORTER and do not endorse it or the products shown.