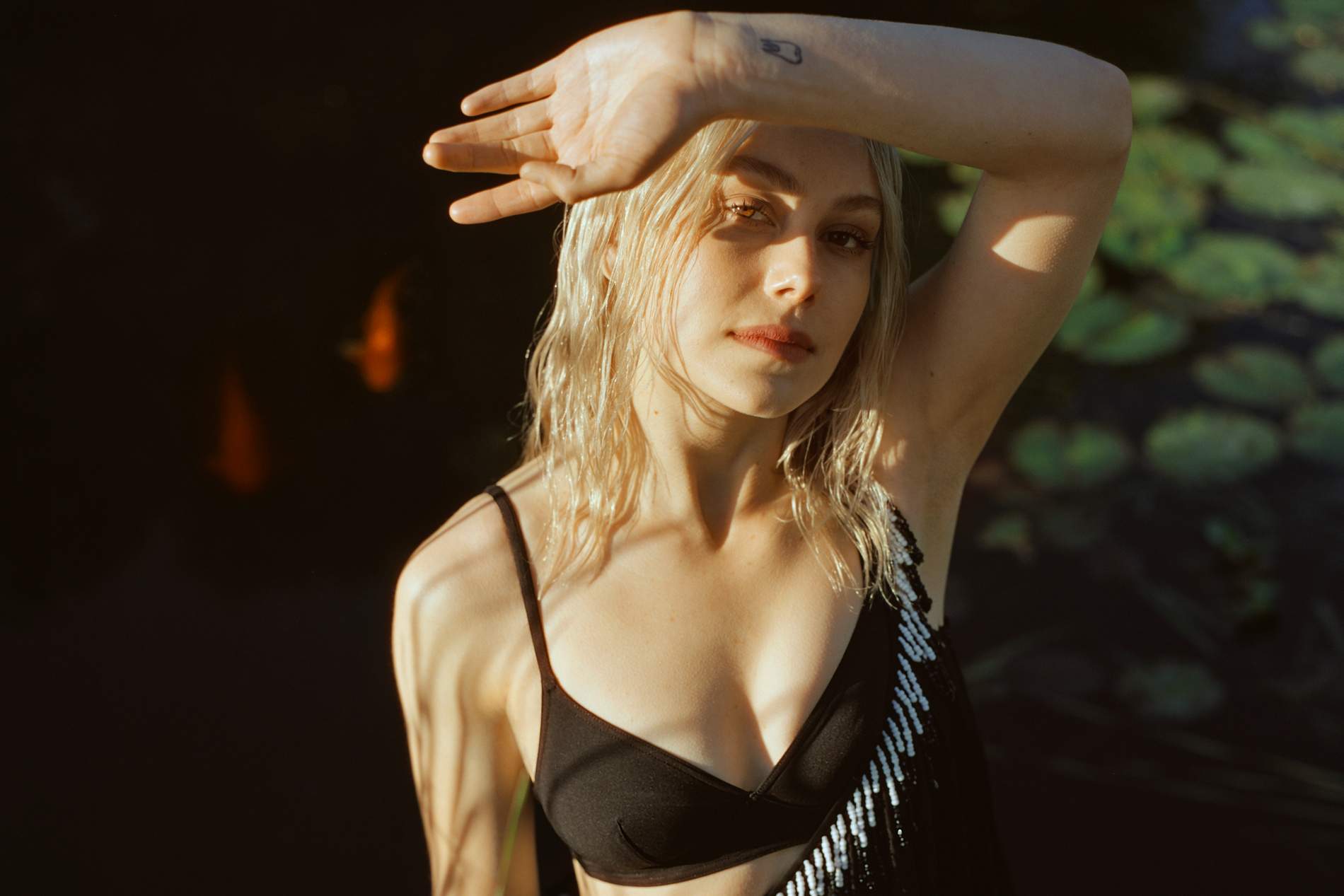 She's the fresh face of modern folk, whose second studio album casts a razor-sharp eye on the absurdities of life. Here, PHOEBE BRIDGERS tells HANNA HANRA about finding her own forms of self-care and songwriting – and how that poignant collaboration with Phoebe Waller-Bridge and Normal People's Paul Mescal came about
Photography

Daniel Jack Lyons
Styling

Sean Knight
During Phoebe Bridgers' locked-down time between tours in the past year, she has bought a house (her first), released an album (her second) and acquired a puppy. In fact, something is catching her eye behind the camera as she switches on Zoom. Excusing herself, she disappears and returns with a black pug, who she settles on her lap and is introduced as Maxine. The puppy fits well into Bridgers' aesthetic: glossy, with not a single hair out of place. Behind them, in a cabinet, sits an anatomically correct human skull. "It's from the original Pirates of the Caribbean ride," she says, dryly.
The singer-songwriter's most recent album, Punisher, has been described as "wistful", "sad", "anxious" and "candid". So, you might expect her to be emotionally heavy-weather, but Bridgers' sentences are punctuated with little chuckles and one-liners deftly delivered in a low, deadpan way. It's at odds with her light singing voice, which draws listeners in with its floaty sing-song-ness. Yet, her smart pop hooks and dreamy melodies – coupled with sharp-witted lyrics that have the narrative engine of a folk song transferred into modern times – have fast propelled the 26-year-old to global recognition. Candid and funny, with extraordinary musical talent, she has tapped into an audience that wants to see its own emotions reflected back at it. "I want to write folk songs," she determines. "I hope that's what people like about me; that they hear me saying stuff that they haven't heard in a song before."
It is definitely a key element of her success, particularly within a generation that likes to make a quick video of a dance and then have a cry. One moment you're listening to an upbeat flute section, then, before you know it, she's singing, 'You're gonna drown in your sleep. For sure, wake up and start a big fire', holding onto every syllable so you know she means it. "I can only speak for what I am inspired by," she tells me of her own musical taste, "but, for me, [this] was listening to stuff like Bright Eyes. I wasn't used to hearing people say stuff like that in a song." She means the sad, gentle lyrics of Bright Eyes' Conor Oberst, whom she collaborates with regularly. Like Bridgers, Oberst writes folk music for a generation with a much larger emotional language than the one that went before them.
Punisher earned the singer-songwriter four Grammy nominations and, despite Elton John threatening to hit someone if she didn't win, she came away with none. "Me holding my Grammys" read her Instagram caption the next day, accompanying a photo of her in the garden holding a handful of air, wearing a sequined skeleton suit and looking benignly out of frame. She has navigated her ascension, she says, by building a world around herself that she invites people in to, "rather than feeling like I was trying to break into something… For me, consistency is the way that the music industry has changed; I have a family dynamic, as gross as that may sound. I know who to call about what thing."
Last year, a little before Christmas, she released a video for Savior Complex, directed by Phoebe Waller-Bridge and starring Normal People's breakout star Paul Mescal. "Fleabag changed my life," she says, before quickly adding, "I was pretty late to it. It had been mansplained to me so many times. Too many ex-boyfriends were like, 'You should watch this, it reminds me of you.' I was like, fuck off. Then I watched it and fell in love." She met Waller-Bridge over email, a move she now makes sound like a totally normal thing to do. "I was like, I don't want to be another person asking her for things, but my one dream is to make something, so I asked her and she had an idea for the video and it all fell into place really magically."
"I am terrified of MYSELF reading my TWEETS from now in five years' time. I don't WANT to be embarrassed"
The power combo of Bridgers, Waller-Bridge and Mescal made headlines, and rumors soon swirled that Mescal and Bridgers, who identifies as bisexual and has dated both men and women in the past, were secretly dating. When he followed her on Instagram (truly the modern yardstick for a crush), she admitted at the time that she felt "a little pitter-patter in her heart". After the video came out, Mescal told an interviewer that he had a girlfriend but was reluctant to name her, and the pair have remained tight-lipped since.
On Twitter, her mix of dark, dry comedy and observations with banal detail is given the perfect platform. "Just brushed my teeth to kiss someone with no duvet cover," she tweets. "Hot girl summer implies the existence of cold bitch winter." She has less of a presence personally on TikTok, but her songs often go viral in fan videos. "There's way more good about TikTok than bad. Within the context of the world that we are in, TikTok is great," she says. "I've seen criticism of TikTok psychology and weaponizing therapy language and that is going to be cool to examine. But, for the most part, I think it's a good thing that therapy and mental health is destigmatized. You can talk about everything now. I owe most of my normalization [to] the internet, which I am grateful for." Is she worried about oversharing on social media? "I am terrified of myself reading my tweets from now in five years' time. I don't want to be embarrassed and like, 'Ugh you were 26 and tweeting about UTIs – what were you doing?'" she laughs.
"It's going to TAKE a lot to get back to normal, because my NORMAL is filling rooms with thousands of PEOPLE, and traveling"
Released in 2020, part way through the pandemic, Punisher has been "the world's longest album cycle," she admits. "It's going to take a lot to get back to normal, because my normal is filling rooms with thousands of people, and traveling." How does she feel about touring? "I hated it previously, because it's a weird combination of being spoiled but simultaneously denied things that people take for granted. Consistency is something that you're denied; a constant schedule or sleep pattern. The minute you feel you have your shit together, it's thrown off by a red-eye flight or something. It's hard to feel grounded."
Nevertheless, grounded she seems. Born and raised on the outskirts of LA, a young Bridgers made extra money busking covers at Pasadena Farmers' Market and attended the Los Angeles County High School for the Arts. Her gateway to music was her father's record collection, and at school she was in various bands, including one excellently named Sloppy Jane, before being accepted to Berklee College of Music (she attended an orientation meeting but decided not to go).
"I cover my whole BODY in lotion, light every CANDLE I own and put on pajamas. Then I pick up a GUITAR"
Her acceleration to becoming a household name has happened steadily. She's now released two albums under her own name – 2017's Stranger in the Alps and, of course, Punisher – as well as six EPs. She's collaborated with Maggie Rogers, Kid Cudi and Oberst's Bright Eyes, and appeared on songs by Paramore's Hayley Williams, Mercury Rev and The 1975. "I am a chronic procrastinator," she says, when I ask her to describe her work ethic. I mention that Nick Cave once said he puts on his suit, kisses his wife goodbye and walks into the next room to work. Bridgers' version is a little more millennial. "I cover my whole body in lotion, light every candle I own and put on pajamas. Then I pick up a guitar." Do songs come out fully formed? "No, I play it for 10 seconds before walking away." Her process obviously works for her. "I can't decide what's going to come out of my brain. When I have enough ideas collected, I usually write a third of a song and then give up. Then I listen to it on walks and somewhere along the way I just can't help [but] finish it… I am yet to sit down and just write a song," she smiles.
Every day, she pulls a tarot card. "I really like clarity readings. You don't need to ask a question. You pull one card, then you pull three under it to clarify the meaning of it for you." This simple act allows her some control in an otherwise chaotic world. "Taking a second for your life is important and was discouraged by the generation before us. Like taking a moment and making your apartment smell nice, or whatever. It's not a means to an end, it is the end. To me, I feel like the biggest piece of self-care advice is clean your house like your crush is coming over. Pick the trash you've been ignoring up off the table." You have to admit, it's pretty great counsel.
Punisher and Copycat Killer EP are out now via Dead Oceans