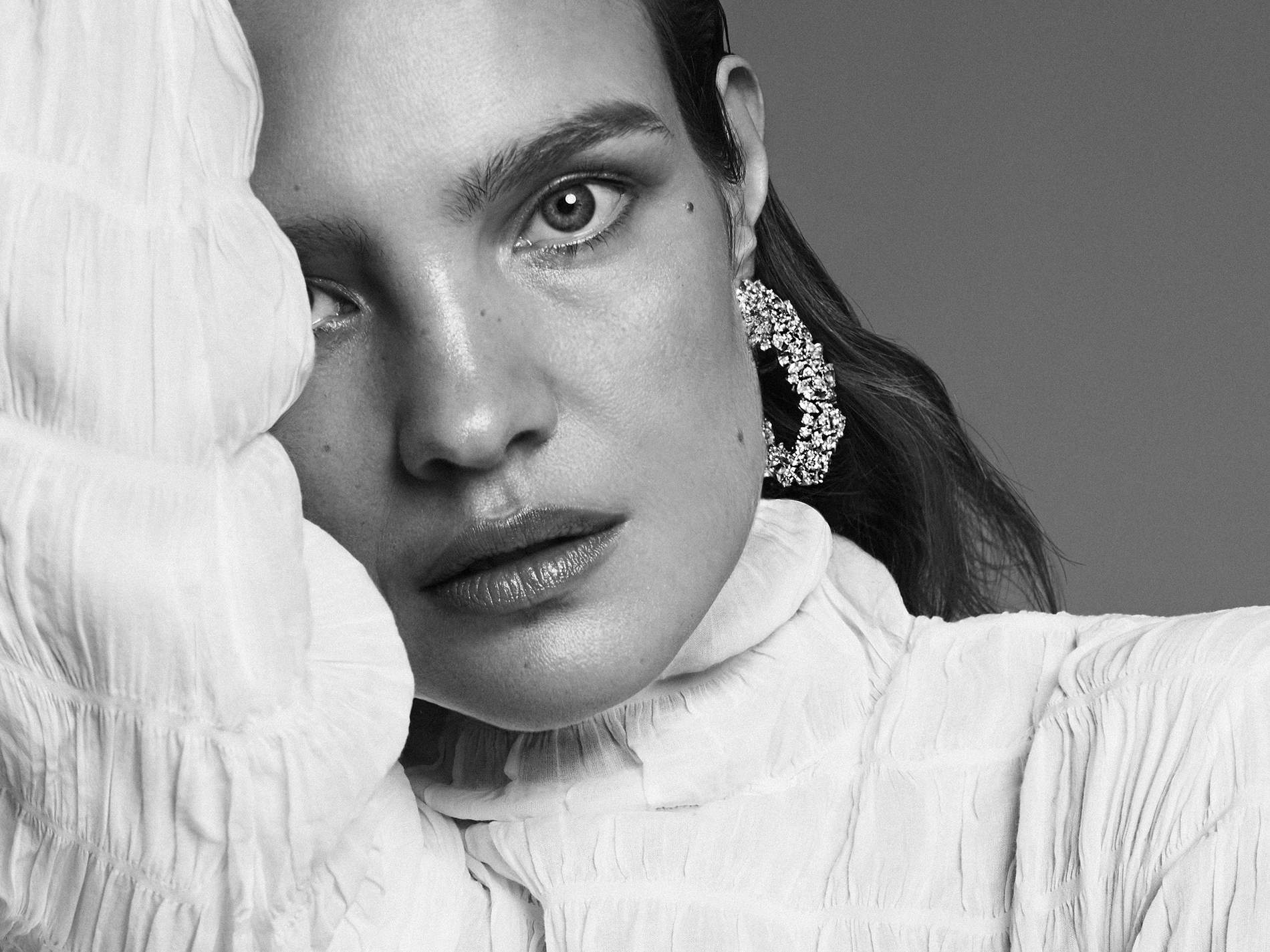 Supermodel, mother-of-five and the driving force behind children's charity The Naked Heart Foundation, NATALIA VODIANOVA more than lives up to her 'Supernova' nickname. She tells EMMA SELLS what she's learned about fashion, fundraising and the power of persuasion
Photography

Alique .
Styling

Morgan Pilcher
Natalia Vodianova doesn't believe in perfection. She doesn't have the time. The 36-year-old has five children aged between one and 16; a long-term boyfriend (LVMH's Antoine Arnault); a high-profile children's charity, The Naked Heart Foundation; a philanthropy app, Elbi; and an enduring modeling career to juggle. So, something has to give. "I'd love my life to be beautifully organized and everything be perfection, but right now it's not very realistic," admits the Russian supermodel, as we sit in a snug hotel suite in London. It's the day after her annual Fabulous Fund Fair, a money-generating, fairground-themed extravaganza for which she ropes in luxury labels and hordes of her industry friends (Stella McCartney, Lara Stone, Doutzen Kroes, Karlie Kloss and more) to help, and she's understandably feeling exhausted – although, in true model fashion, she still looks better than most of us on a good day. As we speak, her hair is being blow-dried in preparation for a Brit Awards party later, then she's off to Milan Fashion Week before heading home to Paris to run a half marathon for her charity. Relaxing is another thing that Vodianova doesn't have time for. "More hours in the day are what I dream about," she laughs.
Her rise to superstardom reads like the archetypal fashion fairytale. Born in Gorky (now Nizhny Novgorod) in western Russia, she was raised alongside her two half-sisters by her single mother, Larisa. Money was scarce and by the time Vodianova hit her teens, she had left school and was selling fruit from a roadside stall in all weathers, helping to support her family. Modeling was a means of helping them on a grander scale rather than an aspirational career choice, so her success came as a surprise. At 17, Vodianova was living in Paris and already much in demand. At 19, she famously returned to the catwalk just 10 days after giving birth to her eldest child, the first of three that she had with her ex-husband, British aristocrat Justin Portman. Over the past 15 years, she has ticked off each career milestone that a model could hope to achieve, earning her the nickname "Supernova"; she's worked with every legendary photographer going, covered countless magazines and landed multi-million pound contracts, repeatedly appearing in Forbes' annual list of the top 10 highest-earning models.
"I love modeling because it gives me a break from the everyday challenges that I meet with my philanthropic work, which really is just very stressful. Modeling is almost therapeutic"
The industry has treated Vodianova well and, while she's a huge supporter of the #MeToo movement, she doesn't have her own horror stories to share. "In comparison to what I hear and read, absolutely not," she says. "I really have been well protected. But time's up for sure because people cannot abuse their power. I want this industry to be the way that I know it for everyone. There is no turning back, only forward, and the future is bright. The only issue I see is possibly how it will affect creativity, and that freedom of expressing ourselves with images, with video, with fashion. You definitely see that this movement is putting people on guard."
These days, her modeling work is confined to the occasional cherry-picked shoot, big-hitting campaign and runway appearance. "I love it because it gives me a break from the everyday challenges that I meet with my philanthropic work, which really is just very stressful," she says. "Modeling is almost therapeutic." It's the Naked Heart Foundation that's her day job. The charity, which offers support and services to families affected by special needs and disabilities, has raised more than $55million since she started it in 2004, building 190 play facilities in Russia and the UK, as well as a Family Support center in her hometown. It's a mission that's truly personal to Vodianova – her sister, Oksana, has cerebral palsy and autism – and she is relentlessly charged up when it comes to fundraising. "I used to work much harder when I was young and before I became successful," she says. "It was physical work and it was suffocating because I couldn't do anything about it. Dreaming was not for me when I was a girl, it just wasn't part of my life. So, today, I still work really hard, but there is so much lightness and purpose in it. It's all worth it."
"I don't enjoy asking people for favors for my charity. If someone gave me $10million and said, 'Here's the money, just go and make it happen', I'd be so happy"
Vodianova has a steely determination, and you get the impression that she doesn't take no for an answer. But that doesn't mean that she's comfortable with the endless favor-asking that goes hand in hand with her role. "I don't enjoy it at all," she admits. "If someone gave me $10million a year and said, 'Natalia, you don't need to do this anymore, here's the money, just go and make it happen', I'd be so happy. It was much easier when I was starting because it was something new and fresh. But it gets repetitive; you are constantly asking for things, constantly having conversations that you don't want to have, dealing with issues that you don't want to deal with." What's the secret to her art of persuasion? "In my experience, you have to create conditions that make it super easy for the person to say yes, whatever that means – it is very individual. You have to do your homework in order to create this puzzle that looks so perfect, so beautiful, that has just one missing piece and it's the person you're asking and no one else. Then, no matter who that person is, they'll never say no."
Like most working mothers, albeit one with plenty of support to back her up, time management is crucial to keeping things ticking along day-to-day. She's strict about putting her phone away at 7pm each night, and lives for the weekends when she gets to switch off completely and immerse herself in family life. "I don't relax," she says, "With five kids it's harder than a weekday, but it's fantastic and chaotic and demanding. We take so much pleasure in all the little things; whether someone is playing piano, the babies are dancing, playing with the cat, we're outside and just walking in Le Marais or going out for ice cream and crêpes. We don't make too many plans, we just enjoy."
"The only issue I see is possibly how #MeToo will affect creativity. You definitely see that it is putting people on guard"
She moved to Paris nearly six years ago to live with Arnault, the father of her youngest two children, and she's conscious that her family's upbringing is wildly different to her own. But she and her partner are instilling in them their common work ethic, and making sure they keep a sense of perspective. "When they were little, you know sometimes children will say, 'I don't like my bed, I don't want to sleep in my bed, I want to sleep with you,'" says Vodianova. "I would say, 'It is such a privilege to have your own bed, I shared with my sister for 10 years when I was little and I can't tell you how much I dreamed of my own room, of my own bed and my privacy.' You know, you see their little face and they are really curious, but they don't understand, they don't have that perspective. They still complain. But they stop trying to get into your bed!"
"I would say to my children, 'It is such a privilege to have your own bed, I shared with my sister for 10 years.' You see their little face and they are really curious but they don't understand, they don't have that perspective"
She's working on making time for herself; she exercises around three times a week, does Pilates, tries to get seven hours sleep a night and eats pretty healthily. But she's playing the long game, looking forward to the day when her kids are older and she can take more of a backseat with the fundraising. Then there might be time for the perfection that she's had to let go of. "My grandmother is my icon, she always prioritized herself even though she was the most generous person," she says. "She gave so much to her family and to her community, she was always on the phone and very busy. At the same time, she was never without her red lipstick and always looked amazing, and her house was spotless – this was her representation of who she is, and who she wanted to be. I definitely want to end up being that way."
The people featured in this story are not associated with NET-A-PORTER and do not endorse it or the products shown.