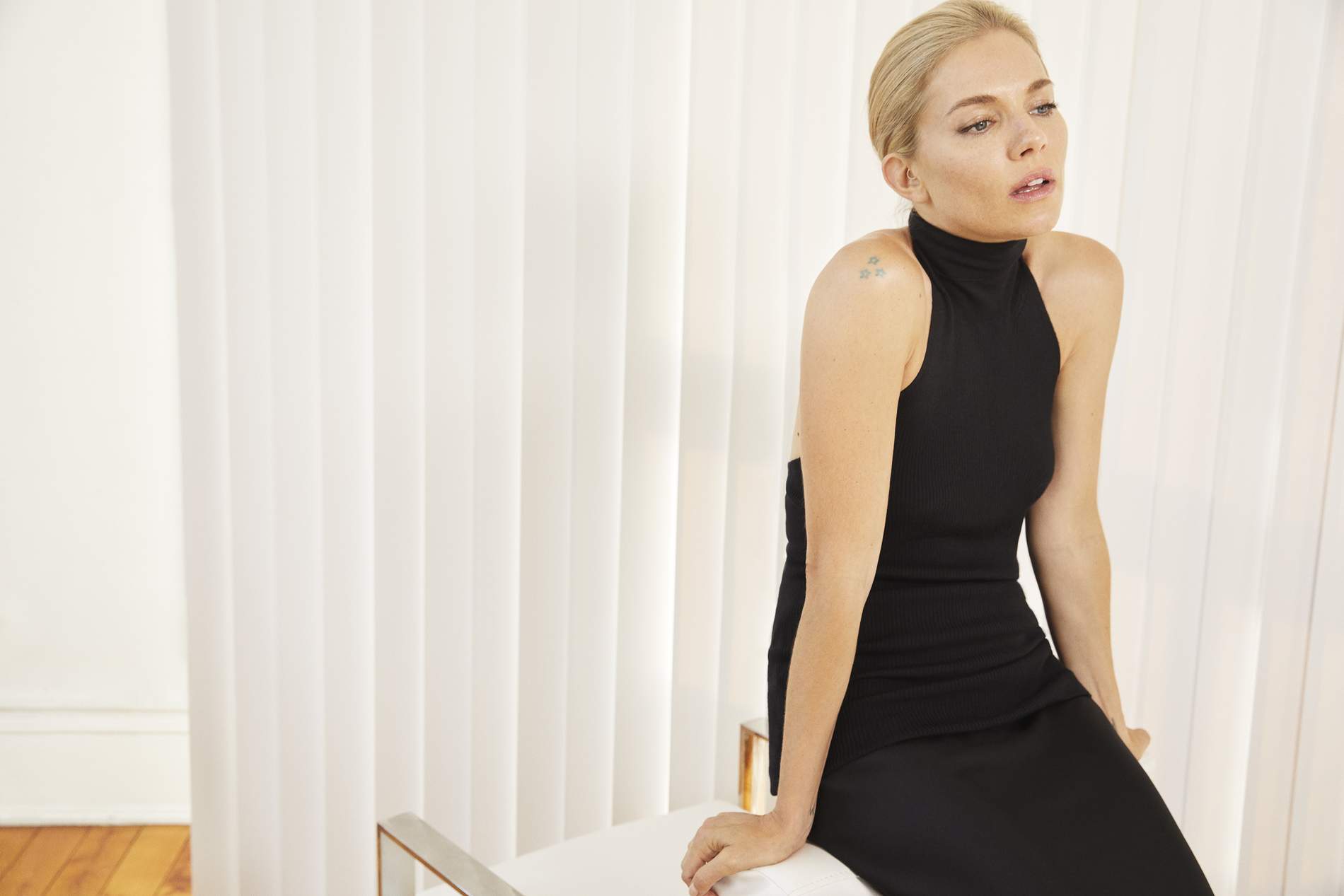 She's been making headlines for years – not least for her enviable style – and now SIENNA MILLER is on the receiving end of some of the best reviews of her life. The actor talks to ALISON PRATO about this latest chapter in her life, her controversial new TV show and why she's no longer cool (at least to her daughter)
Photography

Yelena Yemchuk
Styling

Tracy Taylor
Sienna Miller has a cold. "I'm a disgusting human, I'm sorry," she says, blowing her nose into a napkin while stifling a laugh. "This is what a f***ing press tour looks like." We're sitting at the back table of a French restaurant in New York's West Village; Miller is wearing a cream-colored sweater, loose jeans and Adidas Stan Smith sneakers. "I'm just going to snot into your microphone," she says. "It's disgusting. I apologize."
The cold has been acquired for good reason: she's smack in the middle of a massive press tour for not one but two big projects: American Woman, a feature drama that's garnering some of the best reviews of her career; and The Loudest Voice, the Showtime series about Roger Ailes, the Fox News founder and onetime consultant for Richard Nixon, Ronald Reagan and George H.W. Bush, probably better known now for the sexual harassment scandal that forced his resignation from Fox in 2016. Miller plays Ailes' loyal wife of nearly 20 years, Elizabeth, known as Beth, with Russell Crowe in the role of Roger.
"I did have to watch a lot of Fox News," Miller says of preparing for the seven-part series, which spans from before the launch of Fox News in 1996 to Roger's death in 2017. "But you know what? Even before I got this project, I would often flip between the two – CNN and Fox News – if there was something going on, like the Kavanaugh hearings, and you understand completely why that network has so much influence. They're speaking with such conviction, like: 'This is our truth, and we will support it.' If you spend 20 minutes with Fox, you're like, 'Oh, well…maybe…' And you know it's total bulls**t."
"I've been SCREAMED at and underpaid and undervalued and treated like s**t. It feels like a MOMENT for women to rise up for other WOMEN"
As for playing Beth Ailes, a former NBC News executive and local newspaper publisher, Miller reveals that Beth was not open to meeting, "which I can understand. It's difficult to talk about because she's a real woman. I feel a responsibility for the women that I'm playing, always." However, on Roger and Beth's marriage, she observes: "People are drawn to power, and I think they had a loving relationship. I think he was a very devoted husband, and she was a very devoted wife. Whatever happened in their home, [the marriage] was intact for the most part. They did have two lives."
In 2015 and 2016, as the real-life Ailes scandal was unfolding (he was accused of sexual harassment by several women, including then Fox News anchors Gretchen Carlson and Megyn Kelly), Miller was watching along at home. "It was really kind of essential to the whole Me Too, Time's Up moments," she says. "I was fortunate that I've never – of course, we've experienced sexual harassment in our lives because we're women – but I've never, within my industry, had that experience. I've been screamed at and underpaid and undervalued and treated like s**t, but no one had ever, luckily, propositioned me in that way, or gone there. But yes, it felt like a moment for women to rise up, if nothing else, for other women."
"I recently got paid a SIGNIFICANT amount of money for the first time in my LIFE for a film that I did. I finally UNDERSTOOD how it must have felt to be a man"
Since Me Too and Time's Up, Miller, like many other women in Hollywood, has noticed bigger paychecks than ever before. "I recently got paid a significant amount of money for the first time in my entire life for a film that I did," she says. "I finally understood how it must have felt to be a man. Not as much, but I actually got paid [more than ever]."
Monetarily but also critically, this is clearly a breakthrough moment in her career. For her performance in American Woman, where she plays a 32-year-old woman over the course of 11 years whose teenage daughter has gone missing, the accolades have been effusive. "It was the first time I've ever done a film where I was in every single scene, so with that much time, you get a real opportunity to map something out," says the actress. "It's creatively bigger and broader, versus trying to be impactful in a smaller role, which is what I've basically done since I had my daughter."
In her other upcoming film, 21 Bridges, out in September, Miller plays a Brooklyn narcotics detective alongside Chadwick Boseman ("I was like, 'Helloooo, Chad,'" she says of meeting the Black Panther actor); it was another role that clearly represented a liberation. She's also reading books and trying to option them. "As I get older I have more of an understanding of how this [industry] works, and that it's not as complicated as I thought. It has something to do with feeling less [stifled by gender roles]. I'm willing as an artist to throw a load of stuff against the wall and see what sticks. I really do feel like this moment is just empowering, like, 'Why the hell shouldn't I be doing this? Why not?'"
"As I get older I have more of an UNDERSTANDING of how this [industry] works. I feel like this moment is EMPOWERING, like, 'Why the hell shouldn't I be doing this? Why NOT?'"
At 37, Miller is a different woman, too, from the tabloid staple of the early 2000s. Today, she lives in New York with her daughter Marlowe, six, with her former partner, actor Tom Sturridge (who is also living here, appearing alongside Jake Gyllenhaal in the Broadway show Sea Wall/A Life). "I love it," she says of raising a child in New York, where she relocated from London in 2016. "It gives kids a real grit, strength and resilience. You can't really shield them from anything, which is amazing. She loves England – when we go back and the parks are not metal with cement floors, they're all wood with grass and it's bucolic and beautiful. She's like, 'Why do we not live here? It makes absolutely no sense. Everything is so pretty.' But it's much better if we all live here for now. I think we'll end up going back eventually. Not to London – I'd have to go somewhere very rural."
In New York, Miller is able to navigate the streets under the radar(ish). "We go to the theater a lot; we go to art exhibitions; we go to Central Park with the dog before 9am so he can run off the lead." The paparazzi attention has "calmed down," she says. "I wouldn't say I'm hounded… They exist. It's frustrating. They know that every morning, at a certain time, I walk my kid to school. Whereas in the past they might be right in front of my face shouting, they're now hiding behind bins on the other side of the street. I can somewhat ignore it, but also, I don't want to get papped at 8:15 in the morning, [when] I refuse to put makeup on or put on an outfit. I really have respect for those women who can dress up for the school run. But I refuse to capitulate, and therefore just end up looking horrendous in the Daily Mail most days, covered in cereal."
All of a sudden, she pulls out a Juul vape pen and surreptitiously takes a hit, blowing the smoke into her cupped hand. "Just ignore me while I Juul," she says with a mischievous smile.
"[The paparazzi attention] has calmed down. I wouldn't say I'm HOUNDED… They exist. It's frustrating. I REFUSE to put makeup on or put on an outfit. I refuse to CAPITULATE"
This being Sienna Miller, it's hard not to ask her about fashion, so I pull out a blue leather clutch that I purchased around 2007 from Twenty8Twelve, the line she started with her sister, Savannah. "Stop!" she says with a gasp. "Oh my God! I love that. It's a really good bag. There was a moment where I wanted to put zips on everything… Wow, this brought back some really heartwarming memories." She adds, "In my early twenties, I was much more creative and much braver with what I wore. Nowadays there's just no time to play in a wardrobe like there was before I had kids. Also, my wardrobe is literally the size of this table because I live in New York City. So I don't even know what I have. I don't really shop anymore. I have staples – great vintage Levi's and nice T-shirts. I just wear jeans and T-shirts and sweaters. I recycle ten things.
"I've started to not be cool," she continues. "I was dancing down the street the other day, and [my daughter and I] were waiting for a subway and I was like" – she does a dance move – "which Marlowe used to find really funny, but she was like, 'Shhh!' It was the first time, a knife to my heart."
"In my twenties I was more creative and BRAVER with what I wore. Now there's just no time to PLAY in a wardrobe like there was before I had kids. I don't really shop anymore…. I've started to not be COOL"
Miller is also a self-proclaimed social-media luddite. She created an Instagram account in June 2017, posted one photo, then stopped. "I don't even have the app," she says, pulling out her phone. "It's very utopian, like everybody should feel ok and connected, but I do see that people are more anxious, more depressed and less connected than they were before. When I had [the app], every car ride, every spare moment would be catching up on that, versus actually sitting and being alone with whatever I was feeling. You have to be willing to really expose your world and your life and open that up to people, and I just can't do it without a f**k ton of anxiety." She pauses, then smiles. "But as soon as I'm around someone who's got it, I'm like, 'Gimme your phone,' and I just totally crack out on it."
The Loudest Voice premieres on Showtime on June 30. American Woman is out now (US); October 11 (UK)
The people featured in this story are not associated with NET-A-PORTER and do not endorse it or the products shown.