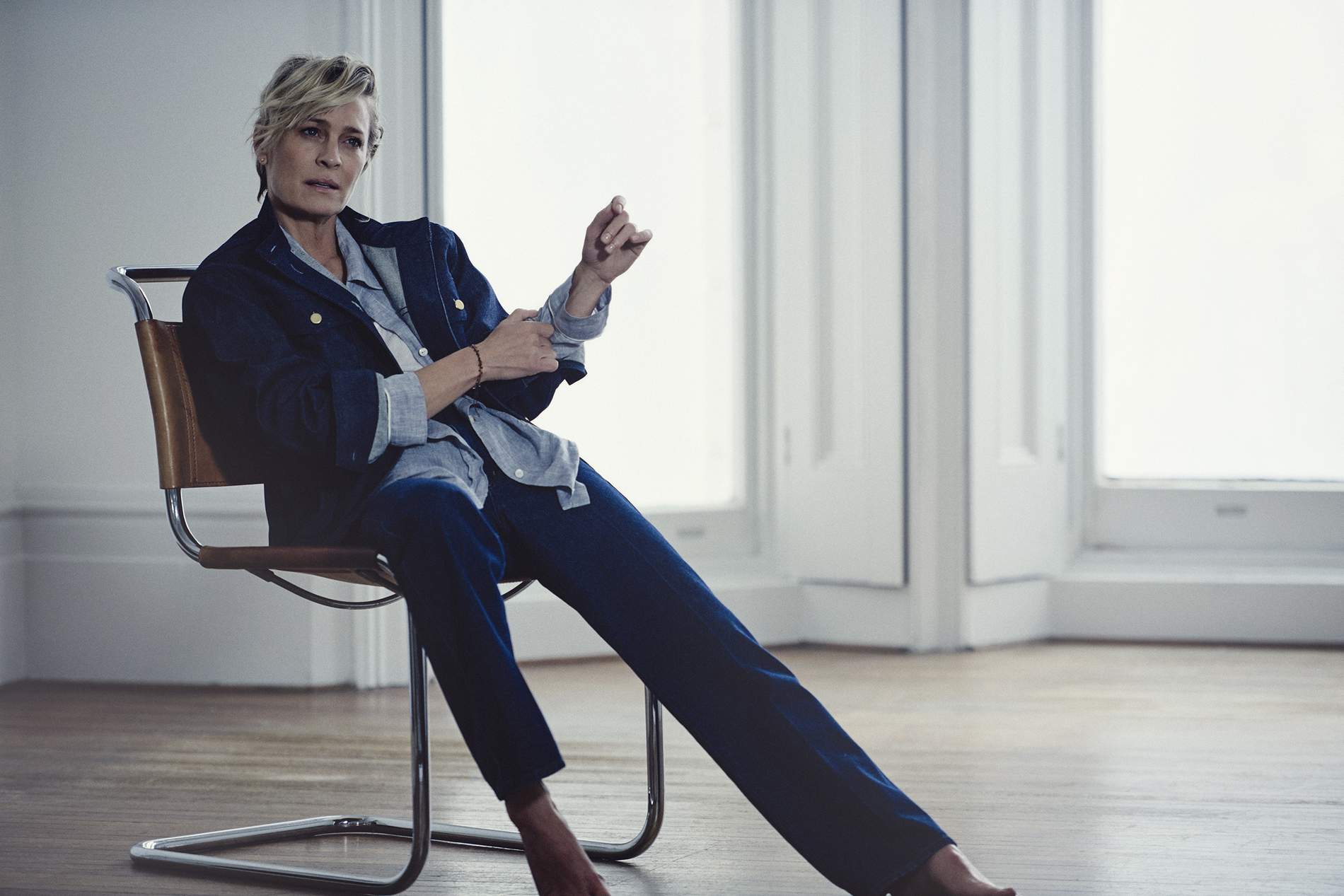 As House of Cards approaches its swan song, actress ROBIN WRIGHT talks to AJESH PATALAY about Claire Underwood's "operatic" exit, her struggle to keep the show afloat amidst all of the controversy, and why her new fashion venture, Pour Les Femmes, makes her emotional
Photography

Boo George
Styling

Helen Broadfoot
Having watched her play Claire Underwood in Netflix's House of Cards for years – one of the most steely and unscrupulous characters on TV – and a run of "tortured, soulful" wives (her words) in movies such as State of Play and Breaking and Entering, my fear is that Robin Wright will be stern, prickly, remote. She hates giving interviews, and who could blame her? As Sean Penn's ex-wife, she's borne the brunt of plenty of media intrusion. She's also become synonymous with a certain kind of combative heroine, from Antiope in Wonder Woman to slick-haired Lieutenant Joshi in Blade Runner 2049. The implications are clear – don't mess with this woman.
So imagine my relief when the 52-year-old American actress comes to greet me with an actual bounce in her step. She is smiling. There's a twinkle in her eye. She positively glows. We meet for tea at her London hotel in Bloomsbury, on a terrace overlooking a garden. Dressed in a silk bomber jacket, black jeans and plimsolls, and wearing brown-rimmed glasses, she looks casual, relaxed and almost giddy with happiness. It's with good reason; currently in London for a few meetings, she's just spent a blissful two weeks in Paris. "I always knew I would end up [there]," says Wright, who ordinarily lives in LA, but spent time in Paris very early in her career. "I was there modeling, right out of high school, and fell in love with it. It's old school. You have to get up, put your clothes on and go down to the boulanger to get your croissant. Most of your day is about building the next meal. Being in nature. Hearing that sound," she says of a chirruping bird overhead. Wright doesn't mention Clément Giraudet, the handsome French Saint Laurent VIP relations manager whom she was dating for around a year and has since married in the south of France (a month after our interview), though he may play a part, too.
"To be a good DIPLOMAT – that's what I want to be. Listening, being OPEN, not reactionary. You can be DIRECT and opinionated without being a bitch"
As for work, three weeks ago, the sixth and final season of House of Cards wrapped. Now, apart from shooting a flashback sequence in Spain with Connie Nielsen for Wonder Woman 1984, and preparing for her feature directorial debut (which starts production in January), Wright is free, and eager to devote time to other passions, such as her socially conscious clothing line, Pour Les Femmes. The story behind the brand is pretty powerful: inspired by a trip to Congo over 10 years ago, Wright started the company with her friend Karen Fowler to provide economic opportunities – and a skilled trade in sewing – for women in conflict zones around the world. The range consists largely of pajamas, partly because both of them love to sleep ("I wish I could sleep like a teenager. But I love being in bed, working in bed, watching movies in bed," says Wright), but also because pajamas represent comfort and security, which women in war-torn regions rarely have. "Buy our pajamas because you are helping a woman start her life again after being raped repeatedly," she says, frankly. "It's pretty simple."
As Wright points out, the hardships of these women are bound to our choices as consumers; the minerals used in cell phones and other electronic devices are mined in Congo and the surrounding countries, and the mining trade fuels those regional conflicts: "We as consumers inadvertently stole their life away." Doing this kind of work, she says, is where she gets most emotional: "Seeing those women have their faith in life again… They don't want a handout, they want their life back. We just built a school in Lake Kivu with the proceeds. These kids have been standing by, dying to learn – now they can go to school." I hear the depth of feeling in her voice. "I love it," she says.
"We just built a SCHOOL with the [Pour Les Femmes] proceeds. These kids have been dying to LEARN – now they can go to school. I LOVE it"
Being kind and considerate is clearly important in every walk of Wright's life. "To be a good diplomat," is how she puts it. "That is what I want to be, and [have] worked at being. Listening, being open, not reactionary. You can be direct and opinionated without being a bitch." Her kids (with ex-husband Sean Penn), Dylan, 27, and Hopper, 25, take after her. "They are both very thoughtful," she says. "I always kicked them: 'Hey, think about other people.' I really enforced that. I mean, I'm not comfortable in a disgruntled situation. I like people. You don't want to not be liked or not like."
Whatever you call that – diplomacy or just an understanding of how to be collaborative and reach a consensus – it came in handy keeping House of Cards afloat, after sexual misconduct allegations against her co-star Kevin Spacey prompted his dismissal from the show, threatening its cancellation. The day before our interview, Wright broke her silence about Spacey on America's Today program, stating that she didn't really know Spacey except in a professional capacity and doesn't actually know how to contact him, even if she wanted to. But various questions remain.
I ask what it was like saying goodbye to the show. "Bittersweet," says Wright. "I loved the people I worked with. We had such a tight bond; it became your family. It was leaving home, really emotional." Were there tears? "Oh my God, so many tears. Tears and jumping for joy that we completed the show, that we got to bring it fully to fruition." How close did the show come to being axed? "Very, very close," she admits, more subdued. "Because of the climate at that time. The air was thick, you know. Harvey Weinstein… People were [saying], 'We have to shut everything down or otherwise it will look like we are glorifying and honoring this thing that's dirty.'"
"House of Cards is not DIRTY. I believed we should finish [filming]. Why QUIT? 2,500 people would have been out of a job. And that's not FAIR"
"Our show's not dirty," was her enraged response, and in those high-level meetings with Netflix, she fought to keep going. "I believed we should finish. I believed we should honor our commitment. To the people that loved the show, also. Why quit?" She was concerned about the people who worked on the show, too. "They printed that it was 'only' 600 people out of work, but if you include security, cops, shooting on location in Baltimore, everything, 2,500 people would have been out of a job. And that's not fair – to take that security away from those people… They didn't do anything [wrong]." How was the mood on set? "Shock and fear. Everyone was afraid of losing their job." Did she feel responsible for them, as an executive producer? "Uh-huh. A good, hardworking team. [People with] kids in college, kids to feed, houses to pay for. C'mon!"
"I believe every human being has the ability to REFORM. Second CHANCES, or whatever you are going to call it – absolutely, I believe in that. It's called GROWTH"
I steer the conversation to Spacey, and though she says she has nothing to add, she does. Would she like to reach out to him, I ask? She pauses, weighing her answer. "No. He'll reach out when he's ready, I'm sure. I think that's the way it should go." Does she feel sorry for him? Another pause. "I feel sorry for anybody whose life is in the public arena. It's a nightmare, can you imagine? We do a job, we share [a performance] with viewers. Why does our private life have to be public? I hate that part of this industry. It's so invasive. I believe everyone's personal life should be personal. Positive, negative, neutral, whatever – I don't believe it should be anybody's business. But I'm not talking about this [#MeToo] movement," she clarifies, in case she's thought to be condoning Spacey's alleged behavior or criticizing those who came out publicly against him. "I'm talking about media. The exposure. It's an awful feeling. A stranger deciding they know who you are and they are going to put that in a…," she drifts off. "I mean, it's criminal, it really is."
We sit in silence for a moment. Then, gingerly, I ask a final question about Spacey: does she feel he deserves a career reprieve? "I don't know how to comment on that, I really don't," she starts. "I believe every human being has the ability to reform. Has the ability to reform. In that sense, second chances, or whatever you are going to call it – absolutely, I believe in that. It's called growth."
On a less contentious note, there's one other thing I need to ask her that everyone wants to know: how does House of Cards end? She laughs. "It's pretty wild. I mean, we're doing an opera. And we went operatic! I don't know how much more we could have topped ourselves. You'll be surprised." I'm reminded of her pride in Pour Les Femmes and suggest she must be really proud of her work on House of Cards, especially now it's over. She says yes, but sounds unsure. How come? "I think because I've never said those words about myself – 'I am proud of this thing.'" She smiles and nods. "But I do. I do feel proud."
Do You Remember The First Time…?
…you won a Golden Globe? Sat in the 'Oval Office' chair? Stepped on set as a director? Robin Wright opens up about a few very special firsts – with some surprising confessions…
The people featured in this story are not associated with NET-A-PORTER and do not endorse it or the products shown.