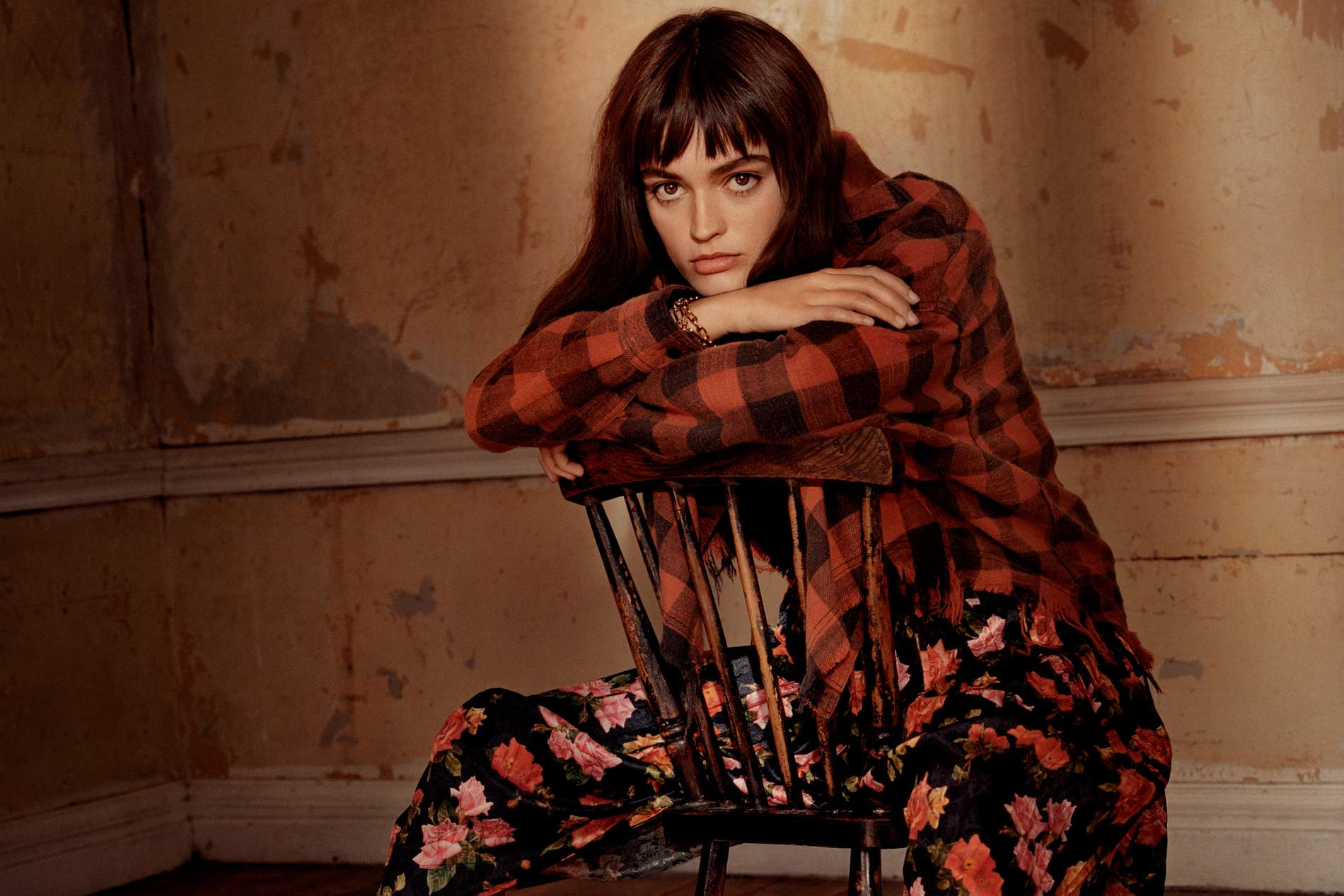 Despite her breakout role in Netflix's Sex Education, and Kenneth Branagh casting her in his stellar adaptation of Death on the Nile, EMMA MACKEY has already decided there's more to life than acting. Here, the French-British actor tells HANNA FLINT why glitzy parties aren't her thing and that her main ambition – aside from farming – is to play strong women who can teach us all a lesson or two…
Photography

Ben Weller
Styling

Cathy Kasterine
Emma Mackey might only be in the infancy of her acting career, but she's already thinking about a major change of occupation. She explains this over a gin and tonic on a sunny autumnal afternoon in west London. "I'm not going to be an actor for the rest of my life," she says nonchalantly. "I'm going to have a farm at some point and just get into permaculture – you know, sustainable farming."
One can certainly get behind Mackey's sustainable ambitions, but it is somewhat surprising to hear her plans for an early retirement from such a soaring trajectory. Her world "snowballed" after she was cast in Sex Education – the hit Netflix comedy series for which she is now filming a third season in Wales – with her breakthrough performance as taciturn Maeve. And, while she loves the show, it came with a level of fame that she wasn't quite prepared for.
As a self-confessed "homebody", who would "rather spend time with one or two people at a time, as opposed to a group and feeling overwhelmed", the actor quickly realized that she didn't want to perpetuate her celebrity status by drawing too much focus onto herself outside of work. "It's not a normal experience," she says. "I went to a few parties at the beginning, but I don't want to be the kind of person who's just at fashion shows."
"It's very attractive to be in that whirlpool and to be like, 'Oh yeah, I'm going to this cool party and I'm going to be with these really cool people', but what does that actually mean?" she continues. "When you're at those parties, people are looking over your shoulder and not actually talking to you. It's very rare to find a connection with someone – and I'm very socially awkward anyway."
With the imminent arrival of Kenneth Branagh's adaptation of Agatha Christie's Death on the Nile – which will serve as Mackey's big-screen feature debut – she's set to earn even wider global recognition. Throw into the mix her three upcoming indie films – one being an Emily Brontë biopic, in which she'll play the eponymous author of Wuthering Heights – and you've got a career most fledgling actors can only dream of.
But as we discuss her life, career and the current state of the world, it's easy to understand why the 24-year-old has her sights set on a life lived outside the public eye. It is partly why she so rarely posts on social media, despite having five million Instagram followers. "I don't think it's my job, and it's never been my job, to be on Instagram," she explains, revealing that she recently deleted the app from her phone. "I'm just not going to be scrolling through my messages, or my comments, as I find it really reductive. I know that social media can be a force for good, but I don't know how much of it is good for us or healthy. The time out of my life that it sucks up is disgusting."
"There was a PART of me that felt I needed to catch up… I was still quite NAIVE and felt I had to sort of LEVEL up my Britishness"
The part of the job she loves the most is the art of performance, which she has been interested in from a young age. Her father is French and her mother hails from Sutton Coldfield in the UK, so she and her brother were raised in a "British bubble out in the sticks" of north-western France. There, she would listen to BBC dramas on the radio, read English novels and, on trips to the UK, would see as much theater as possible, in order to feel a part of a culture that she "felt a bit left out from" by being raised across the Channel.
Mackey chose to study English literature and language at Leeds University because she wanted to fill in the gaps of her British identity. "There was a part of me that felt I needed to catch up," she explains. "I probably would have preferred doing international history or politics, or something grounded in facts, but at the time, I was still quite naive and felt I had to sort of level up my Britishness. Something I've only really recently come to terms with is just existing within my wholeness."
Lockdown came as something of a welcome reset for Mackey. She remained in France for six months so she could finish shooting her first French-language film, Eiffel, a period romantic drama about civil engineer Gustave Eiffel and the inspiration for the famous tower. When she wasn't filming in Paris, the actor stayed at her family home near Le Mans, where she cooked and watched Studio Ghibli animes and François Truffaut movies. Then, in the last 10 days before returning to the UK for work, she read three books in French: 21 Lessons for the 21st Century by Yuval Noah Harari, Shibumi by Trevanian, and Legends of the Fall by Jim Harrison. "It clocked for me that to really be connected to the literature, I need to read it in French," she says. "When I'm reading in English, I'm skimming it."
"They were telling us STORIES about what it was like BACK in the 1970s and '80s; it just felt like a PRIVILEGE to be around them"
She admits, somewhat sheepishly, that's how she prepared for Death on the Nile. Mackey originally auditioned for the character of Louise Bourget, the French maid played by Jane Birkin in the 1978 movie. However, she was chosen instead for the bigger role of Jacqueline de Bellefort – the poor best friend turned nemesis of wealthy heiress Linnet Ridgeway Doyle (Gal Gadot). When Linnet elopes with Jacqueline's fiancé, Simon Doyle (Armie Hammer), the scorned lover follows them to their Egyptian honeymoon on a river steamer, which also happens to be carrying Hercule Poirot (Branagh). Soon enough, of course, murderous consequences require the latter's detective skills once more.
As the "baby" of the cast, Mackey enjoyed being surrounded by "women who have more experience in this industry", like Jennifer Saunders, Dawn French, Annette Bening and Sophie Okonedo. "They were telling us stories about what it was like back in the 1970s and '80s; it just felt like a privilege to be around them," she says. "I could soak up everything they were saying to me and watch them work."
She also relished the chance to be directed by Branagh, who was "instrumental" in guiding the actor in "a different way of working". "At the beginning, I was left out because my character is left out most of the time," Mackey recalls. "They were all on the boat together the first week, and I was just there being a bit jealous in the corner. I guess it was all part of Ken's plan that feeds the notion of feeling alienated from that body of people."
This more immersive way of working was quite different to her experiences so far. In television, she says, "there are so many scenes to get through, you only have a certain amount of time [to do them]". She's always keen, though, to make her contribution to her characters as full as possible. "It's just about feeling nourished [and] nourishing it with intentions."
It's been an odd time returning to work on Sex Education, Mackey admits. The set has become "very regimented", due to the pandemic, and testing is carried out twice-weekly as part of protocols in place to ensure the cast and crew's safety. But they are not skimping on the sex on the show: "We're all still, like, hugging and making out… and doing intimate scenes."
The return to filming has also come during a time of great social and political upheaval, as the world begins to actively reckon with systemic racism and industries start to consider the urgent changes needed within them.
"I don't know if it's ever my place to say anything, but I empathize because this is fucking horrible and repulsive, and shameful that we're still in a place and time where this is OK," she says. "The anarchist side of me is saying that the only solution to this is to basically undo the entire system upon which these governments and this world is built upon. Everything trickles down from white privilege."
"When you're at those PARTIES, people are looking over your shoulder and not actually talking to you. It's very RARE to find a connection with someone – and I'm very SOCIALLY awkward anyway"
She questioned the reason for the Brontë biopic (though, as a former literature student who studied in Yorkshire, "there were lots of elements that felt right" for her to play the author). "Do we really need another costume drama with only white people?" she asked her agent. Ensuring that each role she takes carries weight and meaning is at the top of her list of priorities.
"If I'm playing a woman who is an interesting female character, whose story is going to educate or transmit something to the audience, elevate them in some way and teach them something about, in this case, a real-life person, I think that's a good thing," she says. "My aim is to do things that are meaningful after this whole strange period… it has to have meaning."
Death on the Nile is released in cinemas on December 18 (US and UK)