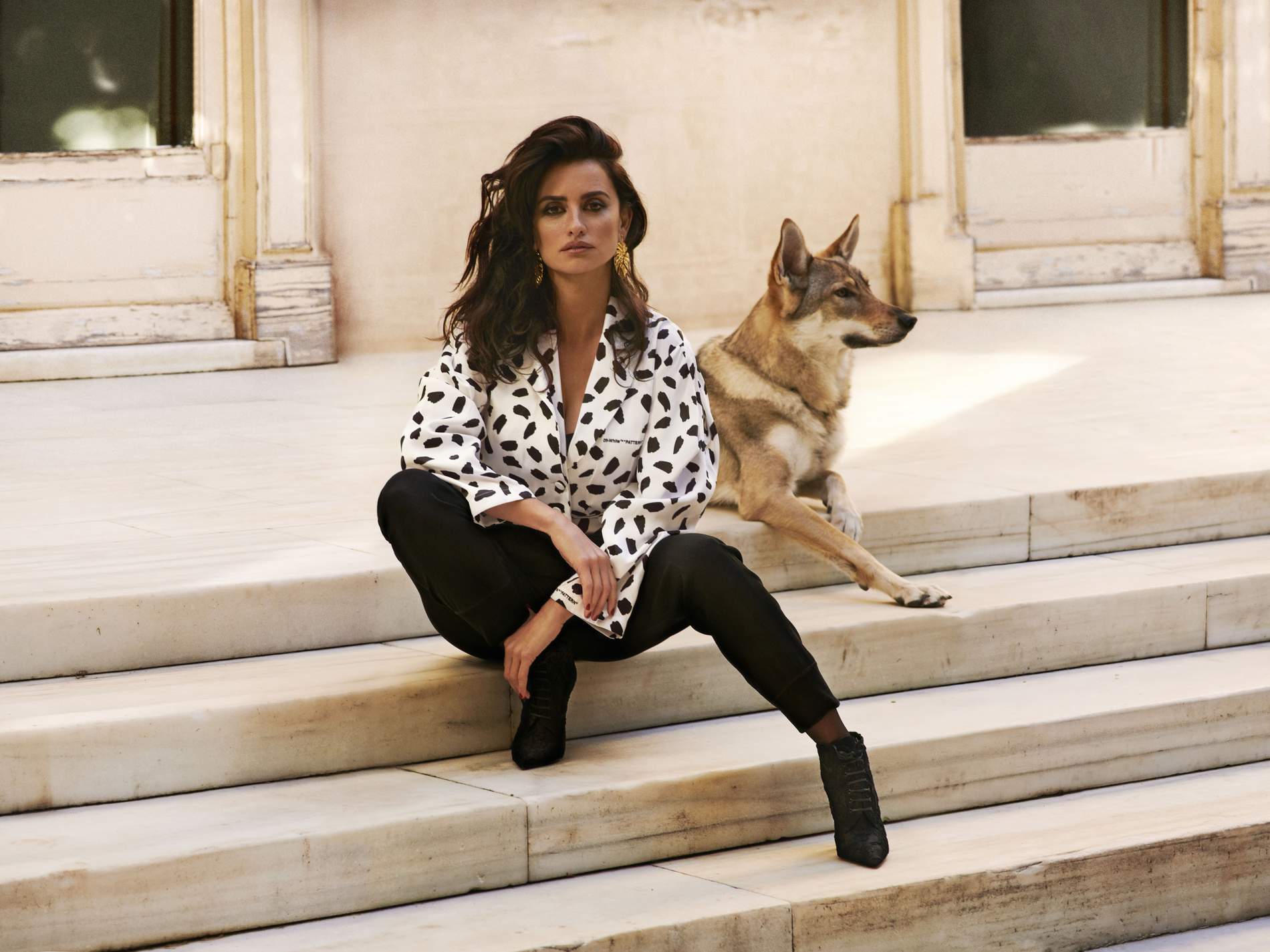 Two decades after the murder of Gianni Versace, PENÉLOPE CRUZ is making her US TV debut as the woman who picked up the pieces after his shocking death. The Oscar winner talks MARK SMITH through the business of becoming Donatella
Photography

Cedric Buchet
Styling

Barbara Martelo
Today, platinum-haired powerhouse designer Donatella Versace is one of fashion's most powerful women, but 20 years ago, she was a bereaved sister fighting for the future of her family's Medusa-emblazoned megabrand. "Wow, Donatella!" is the first thing Penélope Cruz says to me when I mention her critically acclaimed role in American Crime Story: The Assassination of Gianni Versace, and the exclamation could well serve as the show's unofficial subtitle. "To keep the company going in the middle of that huge, deep pain she was feeling – that's real strength," reveres Cruz.
Proximity to her own siblings is just one of the reasons that 43-year-old Cruz – dressed down today in a gray cashmere hoodie and blue jeans – is happy to be back in her native Madrid. London, where she lived last winter during the filming of Kenneth Branagh's Murder on the Orient Express, reminded her that she is constitutionally unsuited to gray days and "a 4pm nighttime – it affects the brain," she says in her accented purr. It was worth enduring a little seasonal affective disorder, though, for the bespoke performances she was able to coax from her co-star Josh Gad, aka the voice of Olaf the snowman in the Disney smash Frozen. Stored "like treasures" on her smartphone, she plays the audio clips to her kids when she's in need of parental kudos. "I know Olaf, and that makes me the coolest mom in the world," she beams.
For the rest of us, 'Friend of Olaf' doesn't quite compare to Cruz's other achievements, such as becoming the first Spanish woman to win an Academy Award, for her role in 2008's Vicky Cristina Barcelona. As she pointed out in her acceptance speech, this was the stuff of dreams for a girl from the working-class Madrid suburb of Alcobendas, who headed to New York at the age of 19 to study dance. The film also reacquainted the actress with fellow Spaniard and Oscar winner Javier Bardem, who had, once upon a time, played a bullfighter and part-time underwear model opposite Cruz's feisty factory worker in her breakout film, Jamón, Jamón. The pair married in 2010. So now there are two Oscars to polish – and two children to consider.
"I said to Donatella, 'This is keeping me up at night – it's such a big responsibility to play someone I respect so much'"
Recently, the couple have been able to complete two projects on their doorstep. Of the psychological thriller Everybody Knows, directed by Iranian auteur Asghar Farhadi, Cruz says, "It was like a dream to spend so much time with such a genius." Loving Pablo, which required Bardem and Cruz to channel violent drug lord Pablo Escobar and his lover Virginia Vallejo, presented a particular challenge. "It was the first time we'd worked together since becoming a couple," says Cruz. "The characters were very difficult, and they had lots of dark, uncomfortable scenes where this woman is having emotional and psychological terror inflicted on her by her partner. I never like to bring my characters home with me, but it was especially important in this case for us to protect one another."
And now – wow! – Donatella. Equal parts gloss and grit, the portrayal marks Cruz's first foray into television. "The rhythm of TV is magic," she marvels, "how they can shoot so much in one day." Bearing in mind that Ricky Martin, who plays Gianni Versace's lover Antonio D'Amico, says he "peed a little" at the prospect of Penélope as Donatella, I ask how Cruz first reacted to the invitation, from American Crime Story producer and Glee co-creator Ryan Murphy, to play one of fashion's living legends.
"I said, 'Ryan, I admire you so much, I would love to work with you, but I am kind of shocked that I am who you called for Donatella. First, I have to make one phone call,'" relates the actress.
"I was not interested in doing a caricature, an imitation; I want you to feel Donatella there"
Naturally, that phone call was to Actual Donatella. As a red-carpet regular, Cruz has been dressed by the house of Versace on multiple occasions. "I said to Donatella, 'This is keeping me up at night because it's such a big responsibility to play someone who's not only alive, but someone I respect so much.' And she told me, 'If somebody's going to do it, I'm happy that it's you.' Her words gave me the freedom to do this. I think she could hear in my voice that everything was going to be done from a place of respect."
Mastering Donatella's voice, of course, was a key part of characterization. This was Cruz's second Italian job – she starred alongside Sophia Loren in the 2009 musical Nine – but the designer's distinctive manner of speaking was a departure. "Her voice is much lower than mine, and I worked for months and months with the voice coach Tim Monich. I was not interested in doing a caricature, an imitation; I want you to feel her there. Everything about Donatella is rock and roll – even when she's just sitting in a chair, she does it with an attitude."
To keep the attitude alive in the breaks between their scenes together, she and Édgar Ramírez, who plays Gianni, turned to music: "We listened to a lot of Prince, and a lot of opera. We thought that both were very Versace."
Whereas attitudes towards race churned at the core of The People v. O.J. Simpson, sex and sexuality pervade this sun-drenched second season of American Crime Story. Gianni Versace was killed outside his Miami mansion by Andrew Cunanan (played by Glee alumnus Darren Criss), a fantasist who preyed on gay men during a time of widespread homophobia, and whose fascination with celebrity culture morphed into a murderous obsession.
"We're telling a story that makes you think a lot about the craziness that's going on in the world today," muses Cruz. "It makes you question the concept of fame, and how some teenagers and very young people grow up idealizing something that is poison." She's concerned that social media is exposing us to pressures that were previously the exclusive preserve of celebrities who are, she says, at least somewhat better prepared. "It doesn't matter if you are exposed to 200 people or two million – if you're not equipped to deal with the pressure of opinion, manipulation and bullying, it's dangerous."
It's impossible to touch on the topic of fame's dark side without alighting on Hollywood's recent sexual harassment scandal. After all, Cruz won her Oscar for her performance in a film written and directed by Woody Allen and produced by Harvey Weinstein.
I feel her hand tap my kneecap. "I know that you are going in that direction," she says, before adding that she had no inkling of the scale of Hollywood's problems prior to the revelations in the New York Times. She was aware, she clarifies, that certain high-profile men were "difficult to deal with on a professional level; that they were tricky, or did some bullying – that much was clear. But these other things that have come to light…" Her eyes widen.
"Since the age of 25, journalists have been asking me if I'm afraid of aging. It's a crazy thing to ask, and I've always refused to answer"
She knows, of course, that Hollywood has very different attitudes towards men and women. "Since the age of 25, journalists have been asking me if I'm afraid of aging. It's a crazy thing to ask, and I've always refused to answer. They would never ask a man such a question.
"Obviously that kind of thing is on a different scale to what we were just talking about, but everything builds up, and I consider it to be part of an overall suppression of women," says an impassioned Cruz.
She's emphatic that the recent disclosure of widespread abuse via the #MeToo movement must result in actions as well as words. "It has to change the rules of our industry and all the other industries in which women are being repressed in so many different ways. It cannot just be something that's there to fill the news for a few months before we move on to something else."
With her own daughter and son, Cruz says she's found a novel way of shifting the gender narrative, quite literally. "Fairy tales matter so much because these are the first stories that you hear from the mouths of your parents," she says. "So, when I read fairy tales to my kids at night, I'm always changing the endings – always, always, always, always. F*g Cinderella and Sleeping Beauty and all of this – there's a lot of machismo in those stories. That can have an effect on the way that kids see the world. If you're not careful, they start thinking: 'Oh, so the men get to decide everything.'"
Cruz's subversive fairy-tale heroines, she says, are prone to declining proposals of marriage, or making the proposals themselves. An example? "In my version of Cinderella, when the prince says, 'Do you wanna marry?' she says, 'No, thanks, 'cos I don't want to be a princess. I want to be an astronaut, or a chef.'" Cruz laughs wickedly and closes an imaginary book.
No doubt, Donatella would approve.
Watch Oscar-winning actress Penélope Cruz talk about the ins and outs of becoming Donatella for hit TV show The Assassination of Gianni Versace: American Crime Story
The people featured in this story are not associated with NET-A-PORTER and do not endorse it or the products shown.