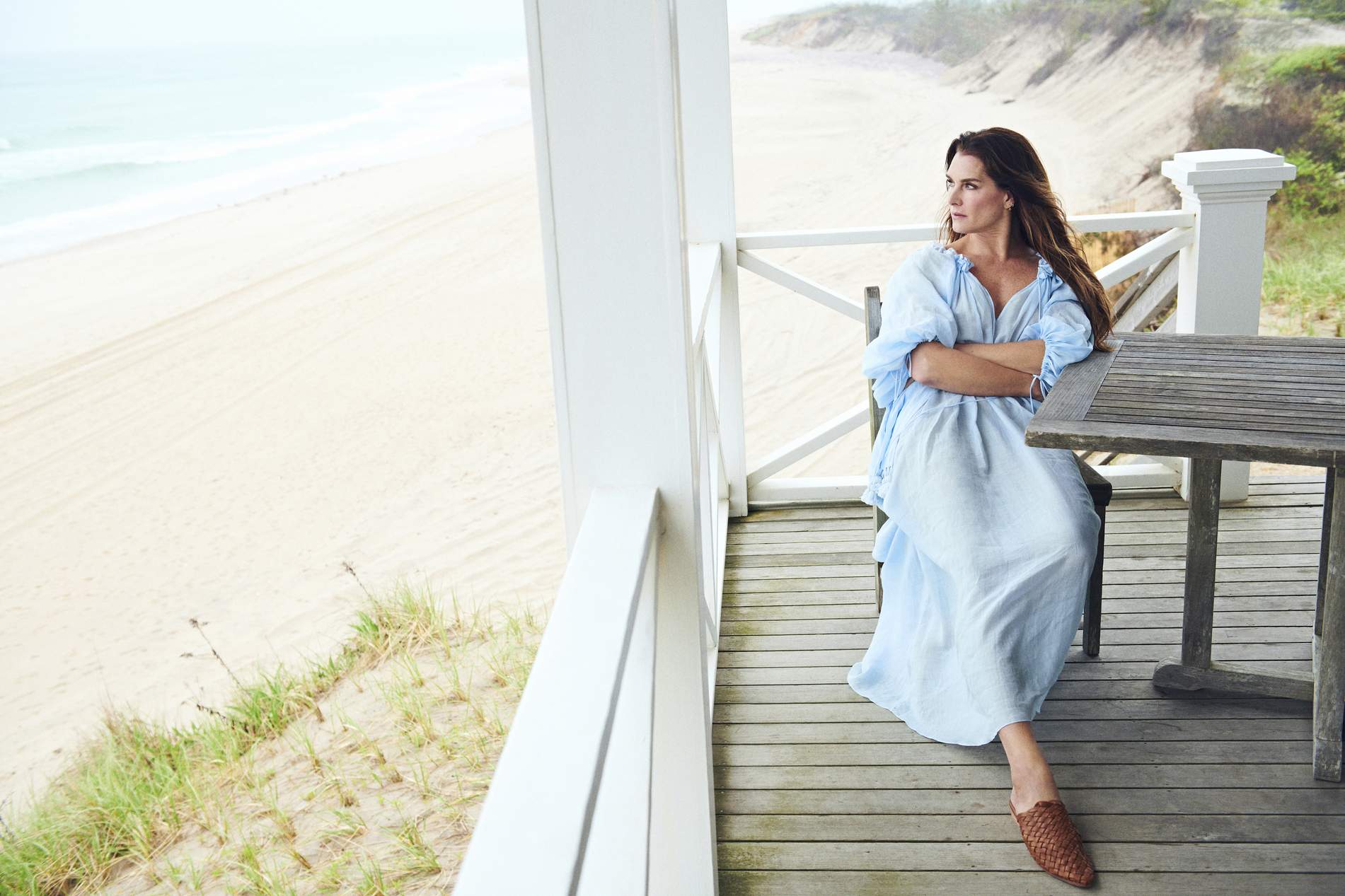 Whether it's thanks to her first risqué films, her iconic Calvin Klein campaigns or simply because of those brows, few actresses are as unmistakable as BROOKE SHIELDS. She talks to JANE MULKERRINS about her controversial career, breaking laws and returning to modeling at 53
Photography

Bjorn Iooss
Styling

Catherine Newell-Hanson
It's a hot spring morning in Manhattan's West Village as Brooke Shields arrives for breakfast looking elegant in skinny jeans, flats, a white shirt and oversized sunglasses, her mane of brown hair still damp from the shower. But something is amiss – she's moving slowly and stiffly. "Blame it on my Broadway career," she smiles, feigning the demeanor of a theater dame and blowing on an imaginary cigarette. "I can actually say that because it's true. Every injury I've ever had has been in a show."
Unusually for a former child star – she made her name starring in a raft of risqué films including Pretty Baby (where she played a 12-year-old prostitute) and The Blue Lagoon (she used a body double for the infamous nude scenes), and at 14 was the youngest-ever model to appear on the cover of US Vogue – Shields has never stopped working, forging a career as an adult in TV comedies such as Suddenly Susan and, currently, Jane the Virgin, as well as Broadway musicals such as Grease and Chicago.
The latter has, she says, taken its toll. After a catalogue of problems, in April she finally had knee surgery. In a bid to become as fit as she could pre-surgery, she hired a personal trainer. "I hate trainers. I hate gyms," says Shields vehemently. "But I worked so hard, so consistently, that I've now got some campaigns, at 53, that I might not have otherwise."
Those bookings include a new advert for swimwear brand Swimsuits For All. "I modeled swimwear when I was 15, and even then I didn't think I had a swimsuit body," she confesses. "I was a cover girl, not a supermodel. I was 'neck up' – the face, the eyebrows – and I was always described as 'athletic'; 'not rail-thin'; 'not a runway model'. Those messages, they seep into your consciousness." Such messages were compounded at home. "My mother Teri, the original 'momager', who died in 2012 after a long battle with alcoholism would get drunk and say: 'Why don't you move your fat ass?' So, I've always believed I had a fat ass."
"I was 'neck up' – the face, the EYEBROWS – and always described as 'not a RUNWAY model'. Those messages SEEP into your consciousness"
"I'd spent my life being so WORRIED that my mother was going to DIE. But that probably SAVED me and kept me on the straight and narrow"
To the millions of women who idolized Shields – and still do – for her infamous Calvin Klein jeans advert, shot by Richard Avedon in 1980, this admission may seem shocking, but it serves as a reminder of how often a glossy, apparently perfect image may be masking something far less happy underneath.
Likewise, Shields' first, turbulent two-year marriage to tennis champion Andre Agassi – during which time, he has since revealed, he was secretly addicted to crystal meth. "I needed Andre to separate from my mother," says the actress, in the language of the therapized. "I'd spent my life, 24/7, being so worried that my mother was going to die, and my whole world was wrapped around keeping her alive. But that probably saved me and kept me on the straight and narrow. I needed to get past that, so that I could start at square one and be a less encumbered version of myself. But I still had so much growing up to do."
Along with humor ("The freedom that I found in comedy meant I could get people off their focus on the physical," she says), meeting her now husband of 17 years, screenwriter Chris Henchy – who has worked on shows including Spin City and Entourage – finally helped her develop a more positive self-image. "I would walk backwards out of rooms, and he'd say: 'No, I want to grab onto you.' He really celebrated my womanliness and my body. And I needed a man to celebrate me."
Back on the subject of her recent swimwear shoot: "I really prepared," she admits. "I knew that if I didn't look my best, I'd be embarrassed and mad at myself. I stopped drinking beer and wine, and I worked out three times a week. I was the best version of myself," she says, before smilingly adding: "I was also hungry."
"There is a HUGE market of women who have money and don't want to look PREPUBESCENT, but don't want to look like OLD ladies either"
Last year, Shields modeled Calvin Klein lingerie for an edition of US magazine Social Life, commenting: "We shouldn't just see 15-year-old bodies. I don't want a 15-year-old body. I don't want to look like a little boy." Brands, she tells me, are finally cottoning on to that fact, too. "There is a huge market of women who have money and don't want to look prepubescent, but don't want to look like old ladies either." She's tapping into that market herself, with a clothing range for home-shopping network QVC. "I have years of access and knowledge, and the idea is that I bring my own aesthetic." How would she describe that aesthetic? She spoons some spinach onto a slice of toast, thoughtfully. "Well, if I could, I would want to wake up one day as a Parisian woman."
Until that happens, Shields will be spending the summer at her beach house in the Hamptons, with Henchy and their two teenage daughters. "I feel the most myself when I'm at a beach, by the water, hearing the sound of the ocean," she says. "But I'm also deeply terrified of it, because I have such respect for it. I am scared of sharks; I am scared of dark water. I started surfing because I needed to feel less terrified."
As such, conserving the oceans is a very real priority. "I make my kids go on garbage pickups along the beach, and we don't use plastic straws in our house," she says. "I love the fact that they are planning to start charging for plastic bags in New York now. People really need to start putting their money where their mouth is."
She breaks off to look at her Apple watch, alerting her of an incoming call on her phone. She decides it's probably not an emergency and leaves it. It rings again. She apologizes, answers it this time, and dissolves into peals of laughter. It's Henchy, calling to tell her that a bird just relieved itself on his head, and to seek clarification from his wife that this is, indeed, good luck. "It is the first day of shooting on the first feature film that he's directing," she explains, still hooting with laughter. "I love that he took the time out to call me and tell me."
"I don't think that Pretty Baby or The Blue Lagoon would get MADE today. But they were so VANILLA compared with the porn you can find EVERYWHERE now"
In the current climate of extreme caution around sexuality, does Shields think that those early, risqué films, which helped establish her career, would get made now? "I don't think Pretty Baby would," she says. "And I don't even think Endless Love or The Blue Lagoon would. But they were actually so vanilla compared with the porn you can find so easily everywhere now."
She has personal experience of this schizophrenic new puritanism; in 2009, London's Tate Modern removed a naked picture of her – taken when she was 10 years old, and repurposed by the artist Richard Prince – amid fears that it might break obscenity laws. "I was removed from the Tate – how many people can say that?" she beams. "But it makes you lack confidence in that institution, because the very purpose of that picture was to make a comment on the idea of the child star and on re-appropriation. It made them look weak."
"You have to shoot for the MOON, because you'll inevitably come back HIGHER. Each time I do something NEW, I'm surprised by how far I get"
Her own daughters, Rowan and Grier, are now 15 and 12. "They're so much more mature than I was," she says. "So much more confident in their own bodies. They have the same stubbornness and strength that I do, but are more well-adjusted. I am jealous as all hell about that. But, of course, I created it." Rowan also volunteers at a WIN (Women in Need) shelter nursery, a homeless charity that Shields is an ambassador for.
Whether her daughters – whom she says are "'more conventional-looking" than Cindy Crawford's "freakishly beautiful" offspring – will follow her into modeling or acting, she's unsure. "They take all these selfies and borrow all my clothes and make mini movies, and I think they feel, if they are in control of that themselves, why would they do it for anyone else?" she muses. Rowan is a talented singer. "But I've told her that she needs an education. And no matter who your parents are, you either have it or you don't, and you have to commit – it can't be a hobby."
Her daughters certainly have a strong role model. In an industry notorious for fetishizing the new, Shields' longevity is rare. "I'm very ambitious," she freely admits. "And I'm a perfectionist. And I hate being told I can't do something. I'm aware of my limitations, but I think before you admit your limitations, you have to shoot for the moon, because you'll inevitably come back higher. Each time I do something new, I'm surprised by how far I get."
The people featured in this story are not associated with NET-A-PORTER and do not endorse it or the products shown.